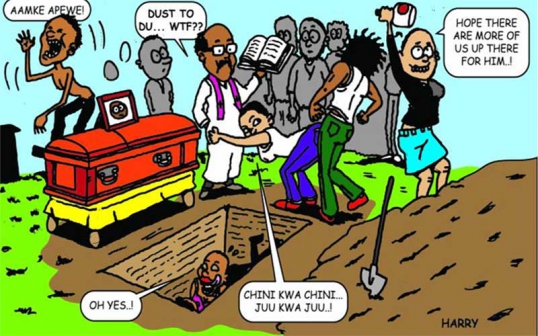 If you thought it is only in Kenya where funerals are full of drama, think again. The funeral of a tout alleged to have a penchant for prostitutes and to be a regular patron at brothels in Eastern Zimbabwe turned chaotic, with some women of easy virtue stripping, simulating sex, and hurling condoms into his grave.
Local media reported that elderly people were further left in shock after a pair of the crazy mourners almost engaged in the act in full view of those in attendance.
The mourners turned the burial into a strip show, claiming that they were mimicking the deceased who was well known for hiring the services of commercial sex workers. "He loved prostitutes..." some of the mourners were heard shouting.
Ladies of questionable morals dared their male counterparts to engage in sexual intimacy at the graveside in full glare of deceased's family members, relatives and neighbours.
As respectable relatives tried to give their beloved one a decent send-off, drama ensued as nude dances and foul language overshadowed proceedings.
Porn show
Had it not been for the intervention of level-headed mourners who stood their ground to bring order, a free porn show was in the making between an alleged commercial sex worker and a dreadlocked rascal, after the pair apparently went into a compromising position to become intimate.
"I have never seen anything like this. It is unacceptable because it denigrates the very process of burying a deceased person," a furious elderly woman was quoted as having told a local journalist.
Marauding miscreants
What pains most is that this madness was happening in full glare of children who also attended the burial. What lessons are they going to learn from such wicked acts? "The language was so strong and their actions were worse," said yet another elderly woman who attended the burial.
Before the burial, the coffin bearing the deceased was driven around a local town by touts who caused all sorts of problems for fellow road users. This was followed by rampant looting of items at vending stalls that are located along the road to the cemetery.
The reports say traffic police officers tried to block the mourners from driving into the central business district, but they were outnumbered by the marauding miscreants.
Those who were part of the weird happenings said property at the deceased's house was destroyed as some of the mourners climbed on top of fridges. "It was total madness. Anything was possible at the funeral because touts had taken over," said a relative who requested anonymity.
This is not the first time that mourners in have hogged the limelight in Zimbabwe for the wrong reasons at funerals. In July 2011, police arrested and fined four people who caused a stir after dancing naked in full view of mourners at a funeral.
Fifteen more people were rounded up a week later after attempting to do the same at another funeral. Some women were fined for taking off their skirts, while some men removed their trousers. They were charged with public indecency.
Related Topics