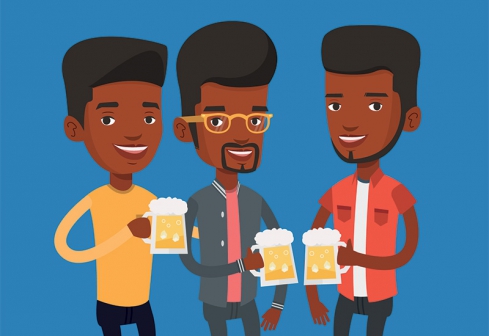 There is this fallacy that town people are rotten and that folks whose huts are located in the middle of cassava and arrow root farms are the paragons of virtue. Nothing could be farther from the truth.
Where I grew up, people were double-faced. For the better part of two years, adults would be very decent 'ladies and gentlemen'. Their language would be so well moderated, their words so carefully selected as if to confirm to us kids that children indeed come from the sky, shops and so on.
Then the circumcision season would begin. The songs would be scandalous and vulgar, describing things that made young ears ring with shock.
On the eve of a boys' circumcision, adults we held in such high esteem they would launch into raunchy talk, describing the indescribable with relish.
Aunties we respected talked openly about doing things the pastor frowned upon with our uncles. There were even rumours that certain things happened behind the banana grove.
It was their way of welcoming the lads into adulthood, turning them into men, we heard. But methinks it was a lousy way of going about it, unless the prime objective was making fornicators, and nothing more.
circumcision ceremony
The shocker, however, was that the next day, the very same adults would shrink back to the sane, respectable folks we knew. Until the next circumcision ceremony.
As I grew a little older, I discovered that where men who were age mates were gathered, anything was fair play. They made naughty digs at each other and exaggerated their friends' sexual exploits to wild laughter.
bored barmaids
Women were no better and their stomping ground was the village spring where jokes were loud, the stories extremely girly and naughty and the giggles wild, reckless and free.
And then came the village pub. When you walk into a village pub, you find three or so patrons who are extremely loud. At their service will be a harem of bored barmaids who shake your hand.
These days, they no longer wear green petticoats. But one enduring standard is that they must have big bums and gigantic breasts. Hire a skinny barmaid who looks like a model in a village pub and you will quickly be declared bankrupt.
As a rule, conversations in village pubs are not meant to be intelligent. People don't discuss politics or the weather but confine all talk to matters below the belt.
The men explain in graphic detail what they can do the barmaids. And the barmaids scoff back, explaining graphically why the men are wimps who don't have what it takes.
The barmaids get groped, their behinds get slapped, they are loudly and lewdly propositioned and no one complains.
And in one corner, a loud patron can be seen dancing the village version of 'bend over' with some wench, an excuse really to duck to the lodgings behind the bar for a dose of syphilis, single motherhood, or worse.
And all the while, everyone is screaming the 'F' word and describing body parts in their respective mother tongues making everything sound more vulgar than it really is. What did you say they put in village beer again?
Related Topics