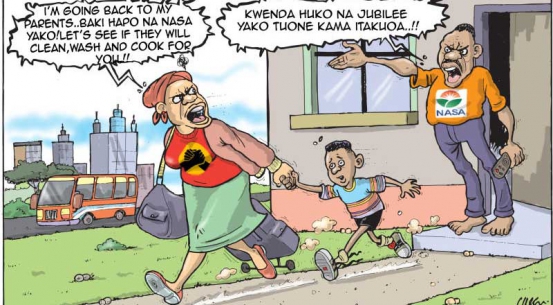 Unlike previous election cycles where we had a huge chunk of apolitical Kenyans, this time around, due to devolution, poor leadership, rampant corruption, high cost of living among a host of other factors, citizens are more political than ever, with close to 20 million expected to vote.
And with politics now at fever pitch in the run up to the August 8 General Election, some of the resulting consequences have had far-reaching political and social implications.
If insults and counter insults with impunity between communities perceived to be for or against the two main political coalitions — Jubilee and National Super Alliance (Nasa) — are anything to go by, then it's safe to say Kenya could be teetering on the brink of anarchy or, at worse, deadly civil war like South Sudan. Painful but true.
Raila fanatic denied sex by wife for criticizing jubilee
Crazy Monday has, however, discovered, this rivalry, is not only driving wedges between strangers and friends on social media and in WhatsApp groups.
It also has a detrimental impact on relationships and marriages, especially where partners are from communities perceived to be on opposing political sides.
"In my house, time for news has turned out to be the worst. When a story on Nasa is on, my wife wants to change the channel because she supports Jubilee and hates Raila with a passion," agonises James, a Luhya married to a Kikuyu woman.
James says it is always uncomfortable when he vents about how badly the country is being led by Jubilee. However, with the skyrocketing cost of living hurting the family budget, his wife — who is also feeling the heat — sometimes agrees with him.
But because of her tribal and sentimental attachment to Jubilee, her feelings gets hurt each time they are castigated, putting him in an awkward situation.
"Even a legitimate complaint against Jubilee is taken personally. You blast Jubilee, she gets angry, moody and sulks the whole day and revenge by denying you sex," he agonises.
Homes where siasa is banned
Some Kenyans on the streets of Nairobi confessed that they have banned politics in their houses, others have stopped talking to some family member or close friend, just because of nasty Jubilee vs Nasa rivalry.
"The tensions are no longer restricted to social media, in the streets, at funerals, in parliament or on TV debates as some people may think. In some of our houses, you can't talk politics because some family members start 'catching feelings'," says Edwin, citing an example of his relative who is now treated as an outcast because he works with Jubilee, despite being Luo.
"He is deemed as a sell out and people now shun him," he says. Which leaves one wondering, can people like head of Jubilee Party secretariat Raphael Tuju peacefully mingle with his village mates back in Rarieda, where everyone and everything is about Nasa?
Odd as it may sound, the turf wars have spilled over to homes and particularly in bedrooms, especially where spouses are from rival communities that largely pledge allegiance to Nasa or Jubilee. Much as some may not say it, they harbour grudges and bitterness towards each other, just because of statements — some uttered in passing but deemed unfair and annoying — they made about Nasa or Jubilee.
Same can be said of some work places where friendships have been ruined, after workers formed rival camps for Jubilee and Nasa. "Some corporate WhatsApp groups have been turned into forums for the two rival coalitions. Professionalism and ethics have taken a back seat, with everyone defending either Raila or Uhuru," reveals Rose, a journalist, adding that every statement, however objective, made in her staff WhatsApp group is always looked at from a political angle.
So fierce is the rivalry between Jubilee and Nasa that if you desperately want to commit suicide, all you need is to put on either of the side's branded t-shirt and wade into the other camp's rally, heckling or taunting their party leader as he speaks!
Wife to divorce Raila fanatic who who banned Uhuru/Ruto news
In one of the extreme cases we recently reported, a woman in Nairobi's Githurai estate threatened to walk out of her marriage because of — get this — her husband's fanatic obsession with Nasa flagbearer Raila Odinga and passionate hate for president Uhuru Kenyatta.
What's more, the furious husband has banned Uhuru and Ruto news in the home! In a rather extreme display of loyalty to Uhuru, the woman, from Central Kenya, is on the verge of abandoning her husband, an Odinga die-hard fanatic, for not only regularly insulting the head of state, but also changing the TV channel whenever he, or his deputy William Ruto, appears.
"She is planning to leave with the children because she is tired of her husband abusing and cursing the President and his deputy whenever they appear on TV during news, yet he knows very well it really hurts her feelings," revealed Diana, the couple's house help.
The house girl told this writer that the furious wife, only identified as Njeri, has been complaining that she has had enough of her husband, surnamed Okoth, calling the President and his entire ethnic community nasty names.
Initially, Okoth had some tolerance for the president and his deputy because all he did was heckle, sneer and dismiss them with a tired wave of the hand whenever they appeared on TV during news.
But things seem to have spiralled out of control, especially against the backdrop of fierce anti- government sentiments and the State's supposed highhandedness on critics, and he now changes channels when they come on!
"Whenever he comes home drunk, he never hides his disdain for Uhuru and Ruto. He makes nasty remarks about them during news, calling them Tom and Jerry (in reference to two cunning characters in a popular cartoon series) whom he has no time for, before switching to another channel," said the maid. "Sitaki kuona Tom and Jerry, change channel," the man reportedly scoffs.
"What, however, bothers her most is that he condemns the president's ethnic community, referring to them as thieves, in reference to the 2013 presidential election," added the house girl. The latest episode of the drama occurred not long ago during the President's televised function.
The woman repeatedly requested her husband to let her and the family to follow the proceedings during the President's address, but he refused. The relationship between the two — which now hangs in the balance — has since been characterised with sulking, sneering and thinly-veiled Jubilee and Nasa taunts. With her husband having turned into an Odinga fanatic, the woman has vowed she can't take it anymore and it is just a matter of time before she packs and leaves.
"Whenever the husband is around with his friends, the house turns into a political rally, with the man yapping about politics to no end, singing that Jubilee stole 2013 election and plans to do so in 2017. News about the President has now been banned completely.
The woman is no longer happy in the home. She says she is uncomfortable each time her politics-obsessed husband speaks ill of her people, and is now mulling a way out," said Diana.
Politically ravaged relationships
Politics, especially towards a general election, across the world is to be an extremely emotive topic that couples are better advised to stay away from. Take, for instance, what happened to a 22-year-old marriage in the US during the last hotly contested election that saw Donald Trump elected president.
A woman, a diehard Hillary Clinton supporter, ended the two-decade old union over husband's support for Trump. Gayle McCormick, a 73-year-old retired prison guard in Washington State who describes herself as a "democrat leaning toward socialist," said she decided to end her marriage of 22 years after her husband announced at a lunch with friends that he was planning to vote for Trump.
She says it was a "deal breaker." "I was in shock," she told local press. "It was the breaking point. The Trump issue was the catalyst." This, however, was not the only case. The bitter rivalry between the two politicians took a toll on many other relationships and marriages. So much so that Trump fans, who were much-hated and despised, formed their own dating social networks through which they got partners.
In Kenya there are lots of 'cold wars' between couples in politically ravaged relationships and marriages, which many try to downplay at least in public. You only need to have a quiet word with lowly people like house girls, shamba boys and watchmen who work in these homes.
If the random conversations Crazy Monday had with Kenyans in Nairobi are anything to go by, there are politically-instigated tensions in homes. For the sake of peace, love and unity, wives married to men whose political standing they don't agree with tend to suffer in silence, seeing as many have to pretend to be supporting their men's parties.
"Kwa hii nyumba kila mtu ni Jubilee, hio mambo ya Nasa staki kuskia," some husbands roar, forcing wives and children to support their parties.
"It's obvious when you are for Jubilee and your spouse or lover is for Nasa, each time those debates come up, you tense and squirm with discomfort," said Gideon, a city resident, who counts himself lucky, saying his entire household is behind him in the political party he supports.
Things are not that good even on the dating scene. Crazy Monday further discovered there is rise of political incompatibility between pro-Nasa men and women and those who are pro-Jubilee.
Another interesting aspect we discovered was that some women from both Nasa and Jubilee are scared and unlikely to date men from either of the two sides, but men in general are more inclined to give women from either side a try. Let's just say men are 'equal opportunity daters'!
Related Topics