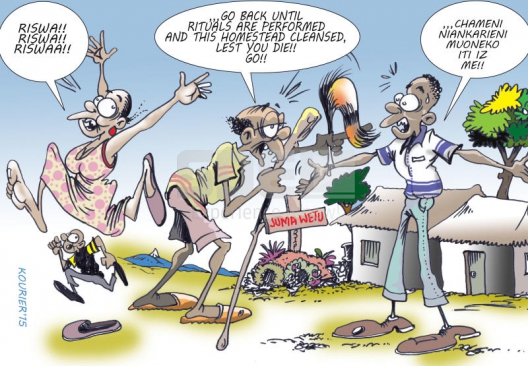 A family in Nakhayanga, Kakamega County, was forced to exhume a body they buried after their presumed dead son, Zachariah Juma, arrived home alive.
Juma, 22, is said to have been at the home of a relative in Likuyani when he heard news of his death and subsequent burial and decided to return to set the record straight.
"Juma first called and we were surprised that he was still alive and would soon be coming home after hearing that he had been buried. The voice sounded like him, but it was hard not to rule out that it was his 'demon' speaking," said a relative of Juma only identified as Mrs Ambeyi.
A few days later Juma made the all-important step of coming in person to his village to prove that he was indeed alive.
On seeing him, Navakholo villagers abandoned their businesses and took to their heels thinking that he had resurrected like the biblical Lazarus.
Some shouted curses at him to return 'his demons' to the land of darkness or wherever they had come from,
"Now what has prompted you devil to leave the land of the dead to come and torment us? Go back to where you belong, riswa!" the villagers cursed.
Unknown to Juma, he had broken a revered Luhya tradition which stopped one presumed dead from setting foot in the homestead where "his body is buried".
It took the quick intervention from elders, who forced him to return to Likuyani where his uncle was, until rituals were performed to make his home safe for him.
"The body that had been buried here on May 30 belongs to my son, Fred Kaula, not Juma's. Kaula was last seen at a drinking joint before he disappeared never to be found. We suspected he had gone somewhere to seek for greener pustures," said Julius Kaula the father of the deceased after the exhumation exercise.
Nakhayanga Chief Malick Maina said the family of Juma decided to bury a body recovered from River Lusumu without careful scrutiny thinking it belonged to their kin.
"We had to get a court order to allow the family to exhume the body after establishing that they buried the wrong one. The body will now be taken back to Kakamega Country Mortuary until further arrangements for its burial are made," he said.
Fred Kaula comes from a neighbouring village and was a trained primary school teacher while Juma is jobless.
Related Topics