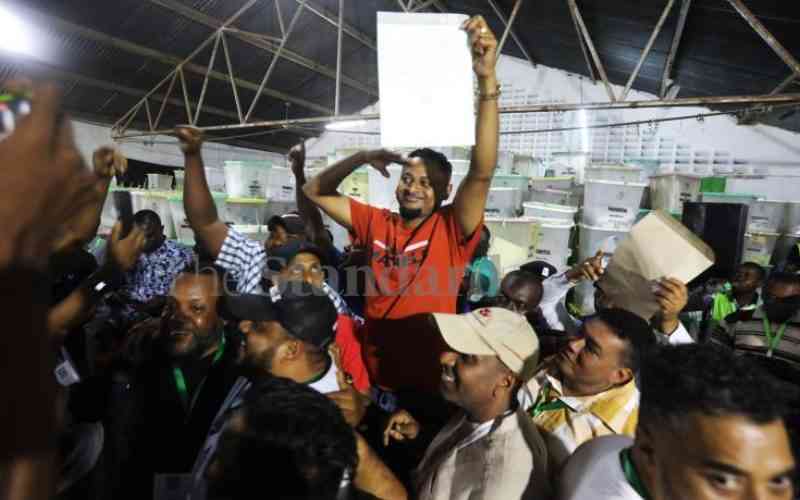 ODM won five of six parliamentary seats in Mombasa County after it recouped the Kisauni parliamentary seat, previously held by Wiper party to cement the county as an Orange party stronghold.
The party clinched Jomvu, Changamwe, Kisauni, Likoni and Mvita Constituencies while UDA won Nyali.
Four of the ODM candidates retained their seats for a second and third term.
In Jomvu constituency, Member of Parliament Badi Twalib retained his seat for a third term while Changamwe MP Omar Mwinyi also defended his seat for a third term.
In Likoni Mishi Mboko defended her parliamentary seat for a second term.
Nyali's MP Mohamed Ali who vied on UDA ticket also defended his seat for a second term flooring ODM candidate Mohamed Said who has contested the win and vowed to go to court.
In Kisauni Constituency, former MP Rashid Benzimba made a comeback on ODM party after the incumbent Ali Mbogo joined Mike Sonko as Deputy Governor for Mombasa Governor seat race.
Mvita Constituency voted in a new candidate, Mohamed Machele, on ODM ticket. He replaced Abdulwamad Nassir who is seeking Mombasa governor seat.
Machele beat his closest UDA rival Omar Shalo who is also contesting the results.
There was relative peace in Kisauni Constituency during and after the elections, unlike Mvita and Likoni that experienced minor chaos over rigging allegations, delayed tallying and announcement of winners.
Speaking on the concluded elections, David Oginga a resident of Mishomoroni in Kisauni Constituency said Mombasa and Kisauni has always been a strong ODM zone and most of the candidates allied at ODM took the seats.
"Mombasa is a stronghold for ODM as exhibited by the wins. Also the residents of Kisauni have many issues plaguing them but have chosen peace. We are tired of living with anxiety," said Oginga.
In Nyali five contestants are disputing Ali's win.
Abdalla who garnered 18,642 votes on ODM ticket has lost for the second time to Ali in Nyali Constituency who won with 32,933 votes.
In Mvita Constituency, Machele beat 15 other candidates in one of the most hotly contested parliamentary races after garnering 22,611 votes.
Omar Shallo of UDA was second with 11,125 votes while Said Twaha of PAA emerged third with 6,738 votes.
In Jomvu Constituency, Twalib garnered 13,850 votes against his closest rival Renson Thoya of Jubilee who got 9,407 votes. He also trounced UDA' candidate Karisa Nzai who scored 5,439 votes, while Abdulrahim Kajembe (Independent) got 2,960 votes.
In Changamwe, Omar Mwinyi (ODM) won with 25,077 votes trouncing 12 other candidates with his closest Jubilee rival Abdi Daib getting 5,789 votes.
In Kisauni, Benzimba garnered 34,747 votes to emerge winner of seven other candidates. His closest rival Mbarak Hamid who vied on UDA ticket managed 12,336 followed by youthful lawyer, Independent candidate Gambo Beatrice Mbodze, the only female candidate in the race who scored 6,533 votes.
Gambo ditched ODM to run as an independent candidate after Benzimba was issued with a direct ticket.
Related Topics