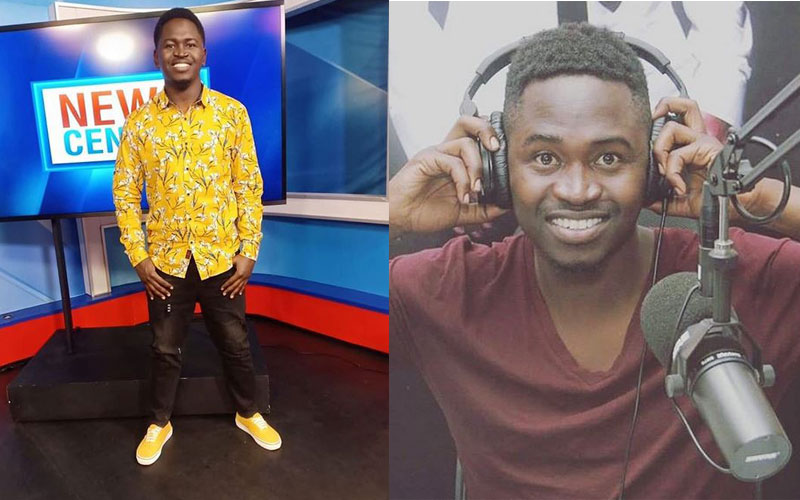 Brian Aseli wears many hats as a TV and radio presenter, theatre director and mentor. He's rubbed shoulders with former US President George Bush and iconic actor Chuck Norris.
This is the story of the born-again beatboxer as narrated to William Osoro.
Love for journalism
TV was my first love as my passion was kindled when watching cartoons as a kid and dreamed of doing voice overs for a cartoon sketch. Later, I attended the same school as Hamisi Temo's children and I admired him a lot. Seeing him drop off his kids in the morning and later come on the evening news piqued my interest. I developed love for radio later on after listening to Caroline Mutoko and Nyambane when KISS 100 was launched.
After completing my high school education at Vihiga High School I joined Daystar University. During orientation, we toured the institution's Shine FM and I got an opportunity to go on air. They loved my voice and soon after, I joined the station; it was a game-changer for a first-year to have a show since it was usually reserved for third and fourth-year students.
Joining Kumbaba Radio, KTN
After university, I worked as a scriptwriter in Westlands for a Kenyan video game called Zuri. I got my radio breakthrough after being contracted to write a script for Kubamba Radio. But during the first show, one of the presenters was running late and I stepped in; they loved my work and I got a job hosting the 'Turnt' show which really sharpened my radio skills.  In 2017, I did a screen test for KTN's youth café and got the job.  
I loved radio but I didn't enjoy the business side since Kubamba Radio was forced to shut down due to financial struggles in 2018. To the journalists who have lost jobs due to the COVID-19 pandemic, do not be afraid because better days are coming. The world has gone through much more but people always come out on top.
READ ALSO: The untold story of Chiki Kuruka- racism, Kenyan ties and love
Singing talent, love for theatre, prophesy gift
I used to be a singer but I currently don't get enough time to sing. As a kid, I looked up to Michael Jackson who was my favourite artiste because of his gusto, charisma and philanthropy. In high school, I was a member of the choir before later joining Afrizzo Band at Daystar University. I'd always looked up to Affrizo's patron Hellen Akoth since childhood and couldn't skip the chance of being on her team.
I'm also an associate director at Redfourth Chorus where I teach theatre and music under Filah Tuju's leadership.  I also have a gift in prophesy as my mum is a seer while my dad is a preacher.
Lessons from meeting George W. Bush, Chuck Norris
In 2014, I toured the U.S. with Affrizo to raise money for Daystar's scholarship students. It was hectic as we crisscrossed the country for four months touring Minnesota, Chicago, South Carolina, New Mexico, Texas, among other places. We met Chuck Norris with his family and security detail at Disneyland by chance. He'd made a night visit to avoid being spotted but he gladly took a photo with us. I still have his autograph. We later performed in George Bush's hometown of Texas and even visited the George Bush library on a Saturday. While in church the next day, we were shocked when the former president walked in accompanied by the Secret Service. Till now, I've never been that star-struck. My interactions with Bush and Norris taught me to be humble and let your work speak for itself.
Importance of mentorship
Mentorship is important for the youth because you learn from other people's experiences, making your journey easier. Songbird Hellen Mtawali is my mentor and she's given me the opportunity to sing and also taught me public speaking. Kakamega Senator Cleophas Malala has also mentored me as he taught me how to act, write, have a stage presence and diction.
New Pearl Radio job
Pearl Radio is new kid on block but has been playing music for over a year now. We did interviews two months back and after an intense process, I was lucky to be chosen to host the evening drive show. I also joined the radio station because of my Christian faith; we are in the business of winning souls. The response is nice and many young people are tuning in.
Juggling multiple roles
Scheduling is what enables me to undertake my roles at Redfourth Chorus, teaching private classes and my TV and radio roles. I usually have a plan so I don't end up doing random things.
READ ALSO: The untold story of former Miss Tourism Kenya Sheila Kwamboka
Message to students repeating school
The COVID-19 pandemic led to cancellation of the school year and from personal experience, repeating a class is not easy. I got to understand it the hard way after the humiliation of repeating form two where I was the class clown. I used to make fun of my Business Studies teacher who had a strong Kikuyu accent. He said I'd remember him someday but I was rude and insulted his short stature. He transferred schools without filing my marks and I had to repeat the class. It took my mother's tears to make me accept the school's decision and it was humiliating walking with a desk from one class to another. But I changed my ways and worked hard and now,  I'm a first-generation degree holder in my family.
Repeating class is a chance to begin again and reestablish yourself to perform better.
Dating
I've been in a relationship for a good number of years with a childhood friend whom we attended campus with. I don't hide her, I keep it private because she's shy and does not like the limelight.  God willing, she's the woman I'll marry.
Parting short
Believe, concentrate and control.