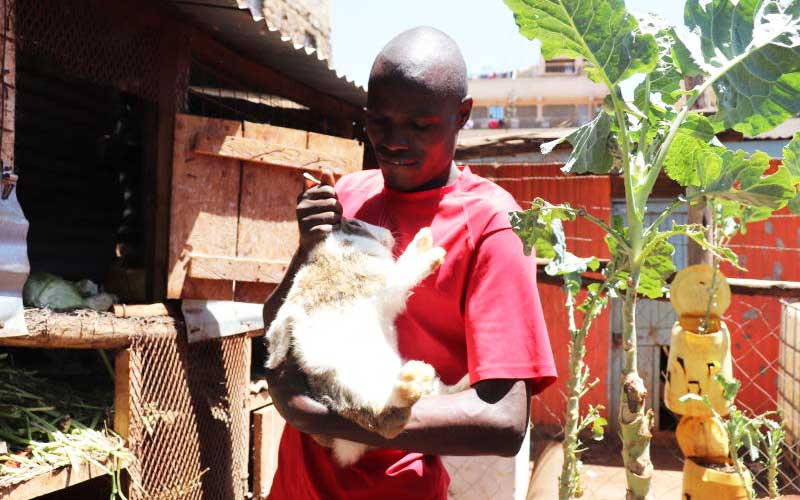 The young men and women sweating it out on some tiny 'farm' squatting by a dusty road could easily pass for jokers.
But Kenyans, hailed as one of the most innovative and hardworking human resource in Africa, are famous for scratching on bare rock for a living. Many times, they strike gold.
Thus, whereas the capital city is believed to the home of white collar jobs, idle villagers upcountry would be surprised to learn that some Nairobians are minting good chapaa from soiling their hands, without even the benefit of a decent shamba.
Slum residents, most of them youths, have taken to urban farming as an alternative source of income, and they are doing just fine.
This relatively new venture has its roots in Mukuru kwa Ruben slum, but is fast sweeping through other areas including Kibera, Mathare, Dandora, Mukuru kwa Njenga, Korogocho and Baba Dogo.
Tiny structures
Nairobi's blossoming estates like Lucky Summer have also taken to Urban farming as fish takes to water. Deep in the heart of Baba Dogo slum, 31-year-old Godwin Makombe is among the pioneers of urban farming, having acquired the skills at Ruben Center in Mukuru.
Makombe has set up his farm on a tiny parcel of land along River Ruaka which runs across Ruaraka. On his farm, he has constructed a timber structure subdivided into 11 compartments where he practices animal husbandry.
The 3 feet by 10 feet structure houses about 30 animals including six rabbits, six doves, five turkey, six ducks and five goats, including a recently born kid. Right behind the structure, on a similarly small space, Makombe is making room for pigs which he says he will bring in by next week.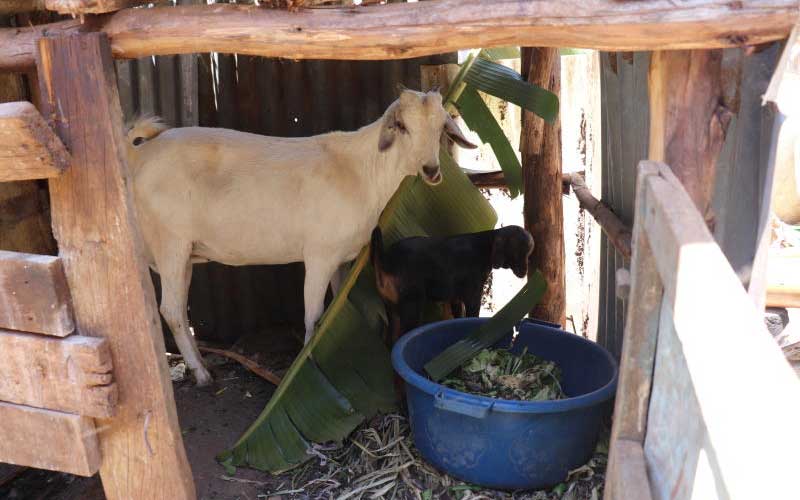 A few feet away is his vegetable garden where he has planted three different varieties of sukumawiki (kales), alongside spinach, capsicum and beetroots. He also has traditional vegetables like managu and terere. On a section of the riverbank, Makombe has grown cassava and several stalks of sugar cane.
In an interesting revelation, Makombe says the river is home to plenty of catfish and mudfish which he harvests both for home consumption and for sale. From this venture, Makombe earns a living by supplying both local residents and city customers with products and by-products.
"I started this venture with only Sh500 to purchase sukumawiki (kale) seedlings," Makombe says adding that he is amazed at the growth of his farm which is now one year old and has a net worth of about Sh90,000.
He says the demand for rabbit meat is especially high and as such the sales are often very profitable. He sells a single rabbit for Sh1,000 if it is for consumption, but if the customer is buying for breeding purposes, he sells a doe at Sh500 while a buck goes for Sh700.
Makombe says his peak seasons for animal sales are during the holidays and festive seasons such as Easter, Eid and Christmas. While a male goat sells for Sh7,000 on the higher side, a female goat goes for Sh5,000 and a kid is Sh3,000. Purebred (kienyeji) chicken sell between Sh700 and Sh1,500 apiece.
The by-products of the animals also fetch good money, with a single goat skin selling for Sh400 and rabbit skin selling for Sh100. Rabbit skins are mostly bought by cobblers who design Maasai-style sandals and shoes.
Vegetable kiosks in the area are his main customers given that getting the produce locally is cheaper than sourcing from the market.
"The entire farm is self-sustaining because I feed my animals from the vegetables in the garden and in return I use waste from the animals to nourish the plants," he says noting that rabbit urine is a very effective pesticide for use on vegetables.
Further, droppings from the other animals act as manure and therefore he does not spend any money on buying fertiliser.
Another young farmer, Peter Gogo also runs a similar venture. Gogo's makeshift garden is crafted on plastic container cut-offs, old car tires filled with soil, a wheelbarrow currently not in use and several gunny sacks.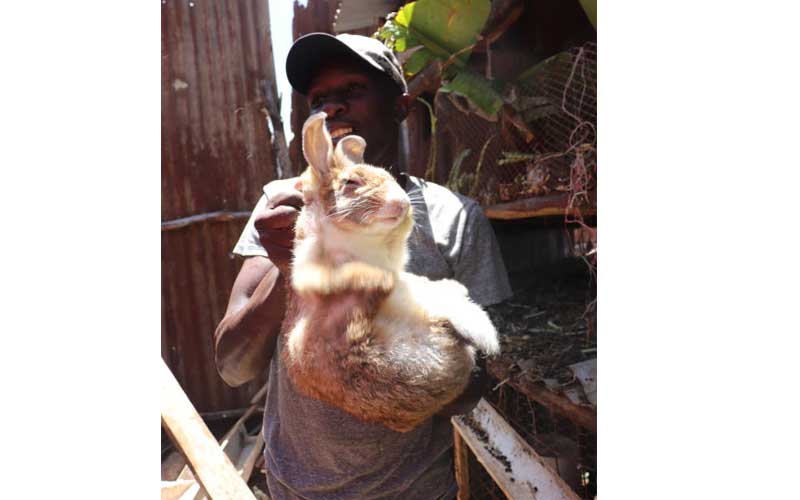 Besides the usual vegetables, Gogo says he is also venturing into spice farming and has already grown lemon grass which is an aromatic spice for brewing tea. He has also planted rosemary and spring onions.
A 4 feet by 10 feet wooden structure is home to six chickens and 12 rabbits, one which just gave birth to a litter of six kittens. Gogo has established his name among butcheries in the area where he supplies traditional chicken meat. He says a single chicken goes for not less than Sh1,500 while purebred eggs go for Sh15 each or Sh450 per tray.
Among his clients is a popular hotel along Thika Superhighway which purchases his rabbits especially during tourist peak seasons. Rabbits are sold in kilogrammes, with one kilogramme going for Sh150. Since most rabbits weigh an average of 1.2 to 1.3 kilogrammes, the selling price is between Sh1,800 and Sh2,000.
According to Musa Juma, the Urban Farming Coordinator at Ruben Centre in Mukuru slum, the whole essence of urban agriculture is maximising production in very small spaces while using minimal resources.
"Therefore the focus is on vertical farming where the farm grows upwards instead of horizontally on the ground. Creative use of space is also essential; for instance cutting a hole in a water jerrycan to make room for a chicken to lay eggs," he says.
Other creative methods include elevating pumpkin stems along a fence or on the rooftop of a house instead of letting them crawl on the ground. Vegetables like kales and spinach grow well from the sides of gunny sacks and on wall-hanging containers.
To date, more than 500 youth from different slums in Nairobi have undergone skills training for urban agriculture and some are already making profits from their start-ups. Through networking, they are able to share ideas and source for affordable seedlings in markets such as Githurai which by far has the cheapest market produce for sale.
Juma predicts that the number of urban farmers will continue to rise due the high return on investment on the ventures.
180,000 trays
According to a survey by Kenya Medical Research Institute (KEMRI) by 1998, Nairobi had 24, 000 dairy cows worth about Sh1 billion with production of 40 million litres of milk annually. At the time, there was a positive relationship between urban agriculture and household food security in the capital city, with livestock providing the most value.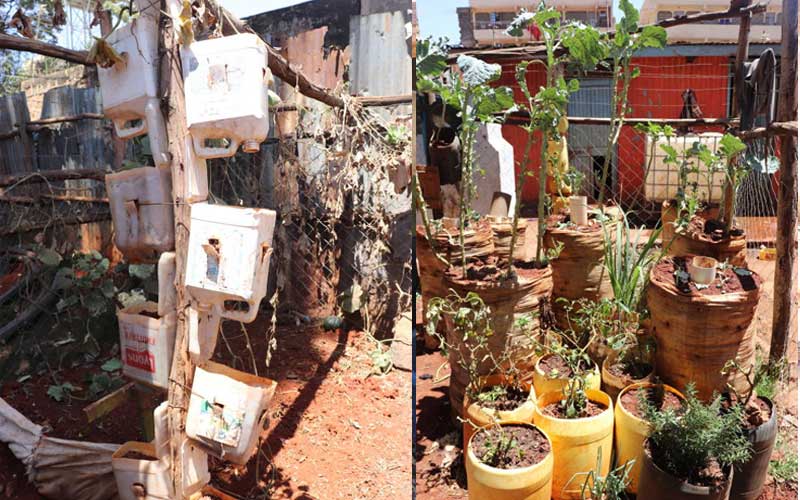 "In Kasarani Division, about 180,000 trays of eggs were produced, worth Sh27 million. In the same year 110,000 kilograms of sukuma wiki were grown in Dagoretti, 240,000 kilograms in Langata and 260,000 kilograms in Westlands," states the report authored by Janet Agaya.
By 2010, about 20 percent of households in the city grew food, mostly small-scale and largely for subsistence use along roadsides, railway lines, river banks, under power lines and backyards of their residential plots.
Today, Nairobi farmers are estimated to contribute about 50,000 bags of maize and 15,000 bags of beans annually- and up to a quarter million chickens, about 45,000 goats and sheep and 42 million litres of milk.
"This, in economic terms, means that milk alone generates up to Sh800 million annually if priced at Sh20 per litre. Most of it reaches the urban poor as either food or income," she said.
Additional reporting by James Mwangi.