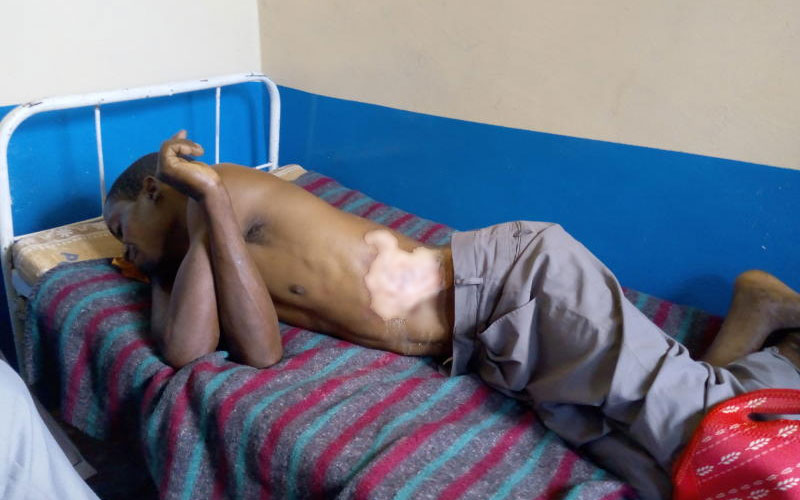 A man is nursing serious burn wounds he sustained from his wife of eight-months after they disagreed over who should shave a baby.
Celestine Nekesa who was sent packing by her father-in-law after the incident, is said to have scalded Alex Juma on March 31 when Juma's family was away in church.
According to Violet Khasali, Juma's sister in-law, Nekesa reacted when Juma declined to shave her son as per Luhya customary laws which dictate that a child can only be shaved at his paternal home.
Khasali added that Nekesa must have reacted when Juma asked her to take the child to his real father for the ritual.
"There was a disagreement between the woman and my brother-in-law and the woman boiled water and poured it on him," Khasali said while blaming her brother-in-law for keeping quiet over the matter till 12pm.
"When he was assaulted, he tried kujikaza kimwanaume for four hours even though my house is just adjacent to his. I could have helped but the matter came to our attention later in the day when I noticed that the two had been indoors the entire morning and afternoon," she said.
When The Nairobian visited Juma at a private medical facility where he is admitted, he confirmed that the incident happened at 8am but he did not raise an alarm.
"We had a small disagreement and she boiled water; I didn't think she would harm me," he said adding that, he did not report immediately, "since no one was at home."
Jumas father, Boniface Ingati said Nekesa was lucky that the attack happened when his other sons were away from home.
"We would have two people admitted in hospital or a worse situation. This is a heinous act which should be condemned," he said. "I had gone to church leaving my phone charging. When I came back, I was informed of the sad news. I took my son to hospital and ordered the woman to pack her belongings and leave us in peace."
Julius Andati, a senior Luhya elder conversant with Luhya culture, believes that it is bad omen to shave a child who does not belong to you.
"The child may even die and that may be the reason Juma was adamant about shaving this boy in his house. That man understands Luhya traditions and customs," Andati said.
His thoughts were shared by Juma's sister, Khasali, who added that only biological grandparents or aunts of the child are allowed to shave if there's proof of blood relation.
"Shaving a child should not be taken lightly as one thinks. It is a serious thing that must be conducted only at a child's paternal home," she said adding that she has also given birth in that homestead and received blessings to have her children shaved.