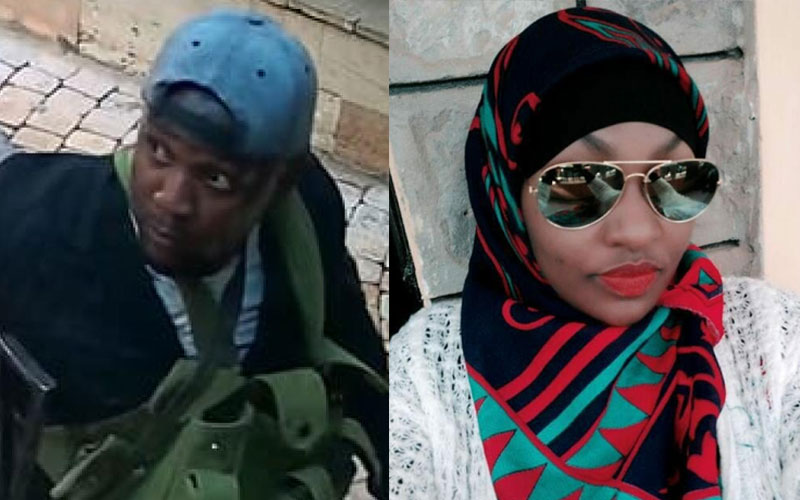 The 'al-Shabaab bride' on the run after the recent Riverside Drive complex terror attack in Nairobi loved money to death.
Violet Kemunto Omboyo aka Khadija would do anything to fatten her purse, according to her former at Masinde Muliro University of Science and Technology (MMUST).
Police say Kemunto is the bride of slain terrorist Ali Salim Gichunge, who was killed by the Recce squad during the terror attack on January 15, 2019 leaving scores of casualties and 21 dead.
Her former classmate who spoke to The Nairobian on condition of anonymity claimed Khadija was the kind of woman who would trek to the North Pole in wet gumboots if that would earn her an extra penny.
One of her lecturers told The Nairobian that Khadija was a crook and a nuisance who made loud noises at night after partying.
"Alikuwa mang'aa ata kwa sura yake (She was so stubborn even from her face)," he said.
Her love for money and creature comforts apparently superseded her desire for knowledge. This according to colleagues, could be gleaned from her social media pages, where she displayed her love for the finer things in life.
Apparently, she had no qualms openly admitting that her goal on earth was accumulating money….and she would not let anything stand in her way.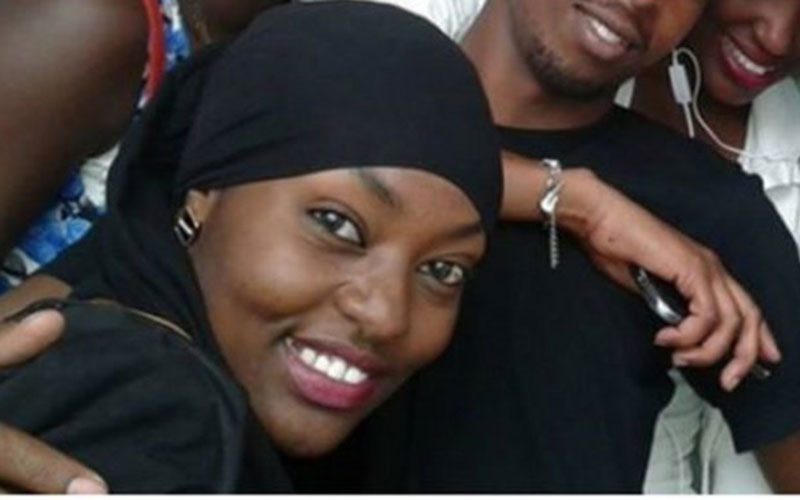 A former male campus mate claimed that Khadija had a don't-care attitude and would often hop from one club to another in Kakamega town searching for 'sponsors'. He added that "she was cunning and knew how to do it without breaking a sweat."
He further recalled "a time she threatened to join a group of devil worshippers to get money."
Khadija had a quiet demeanour, betrayed by a commanding voice concealed behind a beautiful smile. Another former classmate alleged that "she was obsessed with money. All she wanted was to finish her studies and get out there to make loads of cash."
Khadija graduated with a degree in journalism and mass communication (public relations option) about four years ago.
A colleague in the class of 2015 said, "When I saw her on TV and heard that she was married to the slain terrorist Gichunge, I was shocked."
Khadija was initially a Christian but demanded to be addressed by her Muslim name after converting to Islam.
Her weekends were fully packed with activities outside campus.
She loved partying and rarely spent weekend nights in her campus room. "She also never cared about what tomorrow would bring," one of her classmates recalled.
Khadija did not allow anyone to counter her opinions, especially on matters that involved her faith and personal decisions.
"She always spoke her mind and hardly laughed," said a former classmate.
Khadija is said to have had a lover in campus, but the affair ended soon after their graduation due to what her close campus colleagues suspect was 'religious difference.'
One of her former friends said: "She dumped the boyfriend after realising he was not ready to convert to Islam."
She moved to Nairobi where she worked at a phone shop and later met her future hubby, Ali Salim Gichunge.
After her graduation, she went quiet for some time, but resurfaced to invite her former colleagues to her wedding last year.
Her neighbours at Guango estate in Ruaka, Kiambu County, described her as a quiet woman who always smiled but did not engage with them much.
She always donned a hijab and rarely left the house, except in the company of Ali Salim Gichunge.