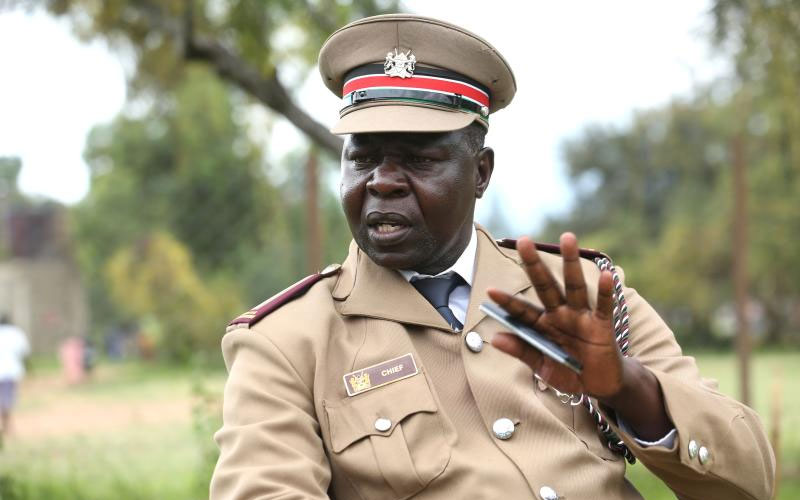 Bwanda location in Nyando, Kisumu County, is a no-drinking zone, says area Chief Lukio Otieno Ogutu.
While Governor Ferdinand Waititu is facing off with consumers and brewers of alcohol in his Kiambu County, this chief from Kisumu County has succeeded.
His recipe is very simple: Chief Otieno holds regular educative forums, preaching the gospel and quoting the law for alcohol consumers. Meanwhile, if walevi are busted, they are summoned, given spiritual nourishment before receiving a few strokes of the cane.
"We caned people to correct them, and we did it and it worked," said the pastor at Lifeline Church in Rabuor.
But even after wiping out illegal breweries from his location, local bars refused to cooperate.
"We negotiated with bar owners and convinced some of them to relocate to other areas, and I am glad that for five years running, my entire location has no single bar," said the chief who was part of Namibia's 1989 peace mission where he served as an escort of President Sam Nujoma for about one year.
Even though local brew was one of the main sources of income for the area's residents, Otieno, 57, commonly known as Tiga Ng'ute Bor (long-necked giraffe) discovered that it caused lawlessness and laziness and he now has zero tolerance for alcohol in his location.
"Those who want pombe kali can try elsewhere in neighbouring locations," says the chief who was promoted six months ago to the position of principal chief.
In 2011, Otieno received Presidential Award for his exemplary performance and last year, he was promoted.
"I was the only Senior Chief from the entire county, so I had no competitor. I had met all the qualifications, and here I am, the only Principal Chief in the county," said the father of seven.
The Nairobian caught up with him at his Rabuor home last month where he is a chief promoter of farming.
"I can say that since I became a chief, I have never bought cereals. I make good use of my farms where I harvest enough maize and millet to take my family to the next harvesting season," he said.
He added: "My role model, former Nyanza PC Peter Raburu, once told me that as a leader, I needed to have enough food in my house to earn respect, because it is laughable to see my wife scrambling to buy a few tins of flour with other women, yet I preach hard work and development," said the alumni of Reru and Withur primary schools, Muslim Secondary and Withur Boys secondary schools.
Previously, Otieno who has been chief of Bwanda since March 1993, was a cop at Kisumu and Nakuru Railways Police Station