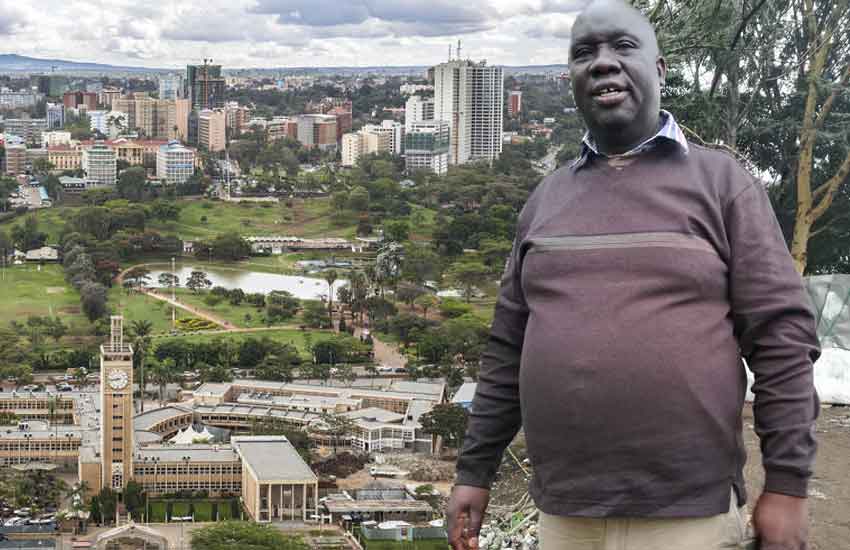 Did you know that Nairobi's Central Business District (CBD) has a chief?
Chief Julius Wanjau is your local sheriff whenever you are within the CBD, which makes your troubles and concerns his.
And so the next time that city mechanic or parking boy messes with your money or car, your next port of call should be his offices in Ngara estate and Nyayo House.
Chief Wanjau handles many cases affecting wananchi within the CBD on a daily basis. The former Administration Police Senior Sergeant has been serving Nairobi since 2012 — and is now in charge of more than 100 chiefs in Nairobi.
"At the moment I'm Principal Chief of Nairobi, that rank means I'm in charge of all chiefs in Nairobi. I also handle normal tasks like any other administrator," he told The Nairobian.
City centre falls under Starehe location thus allowing Wanjau to operate from his office in a bigger capacity that allows him to assist the County commander.
It is here that he handles petty cases including family disputes, customers who refuse to pay debts, carpenters who play hide and seek games with their clients — and issuing burial permits for those who die within CBD.
"My office handles many cases, thus reducing matters that jam courts — yet can be easily deliberated upon and solved," he explains.
Being an administrator, Wanjau's other roles include assisting County government fight petty crime, prostitution, alcohol menace, urchins and land grabbing along riparian areas.
"Prostitution is a thorn in the city's flesh. I work with county government officers in making arrests. My role, however, is limited to providing security to the team as they comb the CBD for the night nurses," he told The Nairobian.
Adding: "It is sometimes tricky for men like me to execute such arrests as women sometimes resort to stripping. This is why the County ought to recruit more female cops to arrest them" he explains.
Adding: "people trust Chiefs more than police, and that is why nothing happens without us knowing. Often we receive information from street children who mostly run to us whenever they see dumped babies — which is daily."
Wanjua is a darling of many. His private car is strewn with all forms of documentation; ID card forms, stamps and birth certificates.
"Sometimes I report to work at 7 am and leave past midnight. It is tough, but we are ready to serve the people. I feel good whenever I serve a needy Nairobian," he told this writer.
On why he has transformed his car into a mini office, Wanjua says:
"I carry everything in my car because staying in office has been linked to opening doors for corruption. I've given out my mobile phone numbers making it easy for wananchi to reach me. Sometimes I go where they are to solve their cases."
Unlike other Chiefs, Wanjau receives funds for transport and a house allowance. This is largely because most government institutions like Parliament, Harambee House, the KICC, Treasury and other institutions are under him.