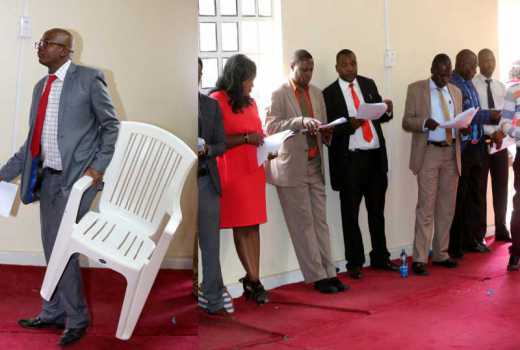 In the run-up to the elections, waheshimiwa did anything and everything to get votes. They ate in vibanda, campaigned on foot and even chewed roasted maize along streets, just to prove their humility.
But after acquiring the IEBC certificate and a six-figure monthly salary, vindu vimechenjanga.
Take the case of Nakuru County for instance, where Members of the County Assembly (MCAs) opted to stand during a session instead of sitting on plastic chairs which 'demeans their status.'
"Even in my own house, I do not sit on a plastic chair. I' am an elected leader, I deserve some respect... How can a clerk and other junior staff at the assembly have comfortable seats in their offices and we are reduced to sitting on plastic chairs?" posed Antony Rotich, Keringet Ward representative.
Rotich was among 78 members of the Nakuru County Assembly who caused drama at the assembly last Tuesday afternoon over plastic seats.
"We have suffered for long. We do not understand why other construction work within the assembly are ongoing yet renovation of the chamber that started a year ago has stalled," said Kihingo Ward representative George Kiere alias Machoka.
The protesting MCAs piled the seats in one corner of a multi-purpose hall as they awaited the county Speaker. According to Minority Leader Peter Palang'a, "as honourable members, we deserve some respect in terms of facilities to make our working environment comfortable and decent. You cannot be an honourable member yet where you sit for business is some kind of sh**hole," Palang'a said.
But not all members were against the seats. Dr Peter Mbae, the Kabazi ward representative condemned the MCAs for being petty.
"Members should take their roles seriously because their main role at the assembly is oversight, legislation and championing development on behalf of voters. There are channels within the assembly that members can use to air their grievances, but not by throwing chairs to protest delayed renovation of the chambers," Mbae said.
"Let the truth be told. Some of us come from humble backgrounds... those plastic chairs that they are rejecting may be the best seats they have occupied after being elected," he added.
Speaker Maina Kairu is yet to address the issues raised by the MCAs but word has it that the assembly's liaison committee will soon meet to discuss renovation of the chambers that has stalled for almost one year.