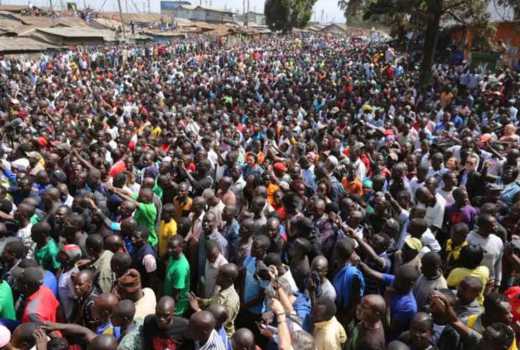 Kenyans politicians are a funny lot. They are known for their sweet-nothings, especially during campaign seasons.
They will say one thing and the next day, ruka the story completely. You can never trust them. This week, we sample some of the common phrases they use to woo masses.
1. We shall leave no stone unturned
When State officers or a famous Kenyan dies under unclear circumstances, security officers, when briefing the media, promise to investigate the matter, 'leaving no stone unturned'.
Months and years later, the stones covering the murderers of Chris Msando and Jacob Juma are nowhere to be found, let alone being turned.
2. Investigations are underway
When scandals like the Afya House and NYS come to the limelight, officers in charge are quick to appear on national television, their faces portraits of deep concern, respect for the rule of law and you might just believe that the leaders will take responsibility.
But lo! Most investigations, like that inquiring into who killed Multimedia University student Diana Mumbi, are always 'underway' like water under the bridge.
3. We are putting structures in place
It's an outright lie. Remember the scandals in the Lands ministry? When confronted, officers in the ministry said structures are being put in place to iron out issues like historical land injustices.
4. The law is very clear
In recent weeks and months, court orders have been flung all over the place like the famed Kibra flying toilets.
And the law, like sunlight, has always been clear, yet not clear enough to chase the darkness in the hearts and minds of our politicians and government functionaries.
5. Our officers are on the ground
Sorry to bring this up. Remember the Garissa and Kapedo attacks? Kenyans, both civilians and police officers, lost their lives in tragic acts of terror.
Then, in response to the attacks, the security bosses promised that, 'Our officers are on the ground…'
6. We condemn the act in the strongest terms possible
This I'm-lying-to-you phrase is mostly put in practice whenever there's extra-judicial killing and politically-instigated clashes like the ones that occurred in Kariobangi, Kibera and Kawangware after the repeat poll.
More than once, this phrase leaps out of the mouths of politicians who rarely condemn the 'acts' in their strongest terms possible.
7. My friend, let me inform you
This is a trademark phrase used by 'selfless, down-to-earth, caring and insightful' politicians when making speeches all over the nation.
The last time I heard it being used was during a TV interview that affirmed Kenya as a sovereign State.
8. There comes a time when the nation is more important than an individual
Wait a moment. How many individuals have stashed taxpayers' money? How many individuals have plunged the nation into political and economic chaos?
How many individuals have looted from public coffers and to this day, still roam about our land and nation, their heads raised high?
9. We are all together in this
Like the Tuko Pamoja slogan, politicians from both the opposition and government have a tendency of lying to Kenyans when they say 'we are all together in this'.
Innocent law-abiding Kenyans are mugged in broad daylight while the politicians who tell them tuko pamoja walk around with bodyguards. While we struggle to pay school fees, put food on the table and live in peace and unity, politicians struggle to buy 7,000-dollar shoes, hurl insults at each other in Parliament and political rallies.
10. My track record speaks for itself
If your governor, denator, MP or MCA has a track record that speaks for itself, I'm certain you would get 'free' healthcare and your children will get free education.
How lucky are you to be Kenyan?!