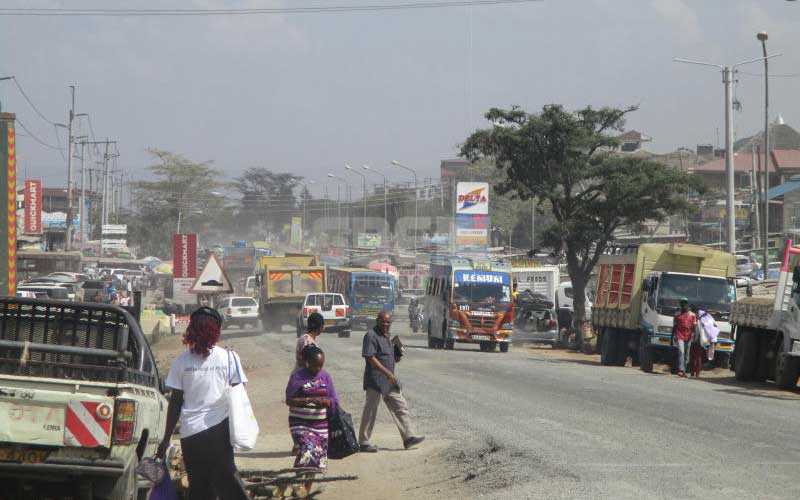 We take all faeces from Nairobi but rely on exhausters to clear ours to the treatment plant a stone throw away- Residents
Dusty, muddy roads link up the area with no designated matatu termini
Every single day, 80 million litres of poop and 15,000 kilogrammes of solid waste heads to Nairobi sewerage and treatment plant in Ruai ward. This waste is unsolicited and illegal.
But here's the irony: This unwanted waste comprising dead dogs and pigs, polythene bags, agricultural waste and used condoms is received by a zone that does not have a system of collecting its own poop.
Ruai ward, sitting on 24,216 acres of land, is the only ward, despite collecting Nairobi's fecal waste, which has no sewer line of its own. To worsen the situation, there are no public toilets in all its shopping centres along Kangundo Road.
Data from 2009 Census, shows that Ruai had a population of 35,961 people, but today this they have more than doubled as Nairobians rush for a piece of Ruai despite it being, well, sh*thole town.
Residents told The Nairobian that despite taking all this shit, they are perceived as non-Nairobians. On the contrary, they are more at ease seeking some services from the neighbouring Machakos County.
"We take all faeces from Nairobi but we are treated as outsiders. We rely on exhausters to clear ours to the treatment plant just a stone throw away. We are not any different from average shags, only that we are close to capital city," says Douglas Kibe, community leader in Drumvale part of Ruai.
Kibe claims that former Nairobi Governor Evans Kidero toured the place only during the recent campaigns and his successor Mike Sonko, who despite having been Nairobi senator for five years only toured the lower side of Ruai (Kamulu) also during the recent campaigns.
"We are perceived as rich because some of us have built homes, awesome bungalows but unknown to our leaders, we bought these plots when they were cheap and now cannot afford to build homes, sell them or take loans because of title deeds and other issues," says Kibe.
Ruai is among Nairobi's 85 wards sitting on Embakasi Ranching Company Limited, Ng'undu Farmers' Cooperative Society and Kamulu Drumvale Farmers' Cooperative Society lands that were sub-divided into thousands of plots and sold to individuals.
However, years down the line, residents have not been allocated title deeds as crooks continue swindling unsuspecting buyers causing more trouble in the ward. Already, tension is rife as Embakasi Ranching Company winds up as directed by the State. There's talk of new title deeds being issued by February this year despite numerous double allocation cases.
"Owners without titles cannot seek loans to develop their plots, nor sell them while others are apprehensive. This complicates laying down water lines, street lighting and signal boosters for areas like Gituamba where there is no mobile phones network," says Geoffrey Kariuki, a residents' leader in Ruai-Gituamba area.
Parcels which were worth Sh20,000 are now going for Sh400,000 - Sh700,000 in Kamulu, Sh1.2 million-Sh5 million in Ruai and Gituamba depending on location and from Sh1.5 million-Sh3 million in Drumvale area.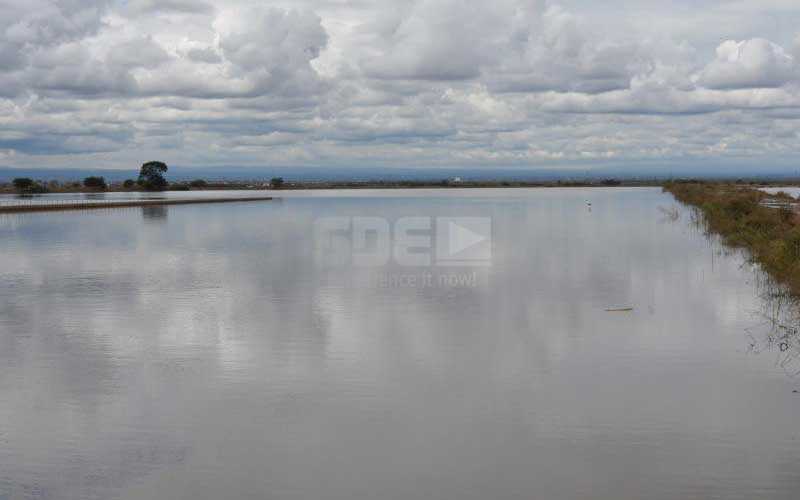 Apparently, Ruai's closeness to the city, consent to farm and even bury the dead on one's plot, even those measuring 50 feet by 100 feet, is enticing more Nairobians to move to Kangundo Road to brave security lapses, water shortages, bumpy and dusty roads, deficient health facilities, lack of public utilities, darkness and cat-and-mouse games with land dealers.
Abuga Bosire, a resident, says owning a home in a fertile, quiet place and rights to farm is the magnet pulling Kenyans to Ruai. On the contrary, Kenyans have shrugged off government's Sh800 billion Konza city with appealing key infrastructure like railway, telecoms and manufacturing plants.
"Affordable land remains in this area and above this, more people want to live in areas they have freedom. Ruai is also cosmopolitan, attracting different kinds of people," says Bosire.
He adds; "This explains why prominent personalities choose to live here. I have been here since 2008. We started PCEA Emmanuel Church in 2012 with 25 families and today we have 300 families, forcing us to have two church services. More keep joining us every day."
Dusty, muddy and abrasive roads link up secured bungalows dotting Ruai and even Kangundo Road, the transport artery is nothing to write home about. Kangundo Road is narrow, bumpy and with no designated matatu termini, constantly experiencing heavy traffic during peak hours.
And apart from the main road, only two feeder roads are tarmacked in the entire Ruai; to the sewerage plant and another to government offices.
The rest of the roads are dusty, muddy and impassable after rains. With no streetlights, muggers have a field day when darkness sets in.  And for five years and counting, some sections of the ward have not received a drop of piped clean water. The alternative is untreated, salty borehole water sold for Sh100 - Sh300 per 20 litre.
Piped privately run borehole water goes for Sh100 per unit. In certain areas, piping was done but not water supply yet. Meanwhile, Nairobi City Water and Sewerage Company keeps demanding payment for standing orders.
"Clean water pipes have been laid down in some areas but since 2012 we have not received water. We suspect it is diverted at some points to serve some individuals' interests. Ruai shopping centre has suffered the same fate since last year while taps in Gituamba side went dry years ago," says Kibe.
On average, a home in Ruai uses Sh300 daily on water; the cost goes higher for those keeping livestock.
David Kamau, a Kamulu area leader claims besides paying handsomely for the borehole water, sodium in the water has discoloured residents' teeth.
"Young people are more vulnerable and some have been missing slots in disciplined forces because of their discoloured teeth. It is a major issue," he says.
Former area MCA Daniel Wamare says too much politicking is to blame for woes bedeviling Ruai. He says a planned sewer line has taken long to be laid down and that Sh15 million allocated for ward development yearly is too little for areas like Ruai.
"In the county assembly, I proposed allocation of resources be done on size and population but my idea flopped. For instance, Ruai has over 100 kilometres of rough roads but the Sh15 million we are allocated can only handle a tenth of these roads," he says.
According to Wamare, to catch up with other city wards, Ruai needs consultations beyond county government.