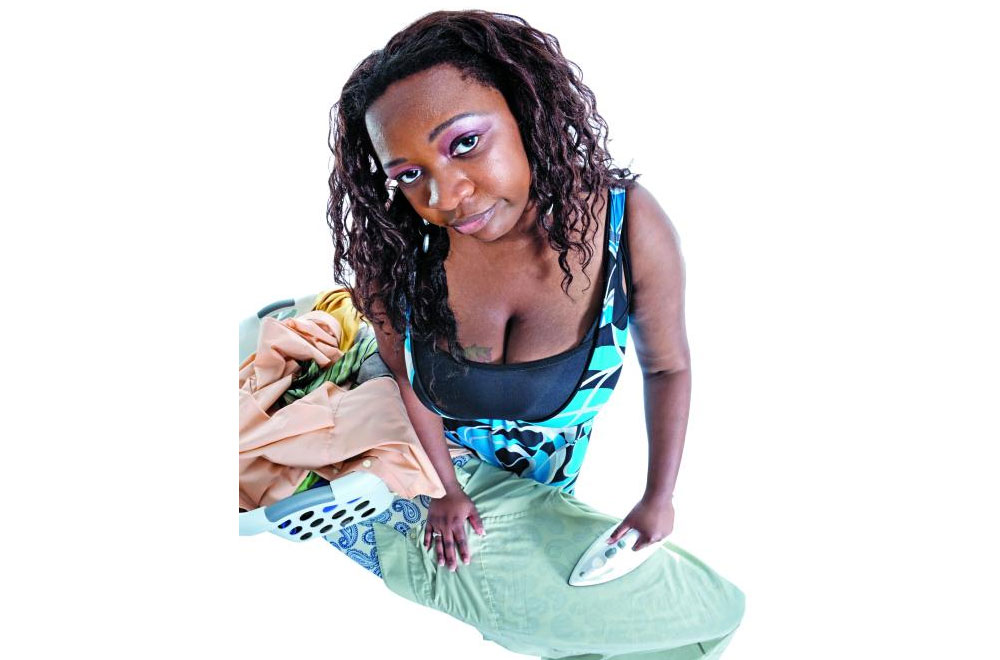 The two weeks that Miss Mboch takes home for Christmas are torturous to the city woman who cannot remember her housemaker roles anymore thanks to the house help
Size 8 admits that December holidays are hectic for her and she depends on family to help with the baby or she is compelled to go with her daughter to events
It is more difficult when the hubby feels like he has conquered the world when he feeds the baby or changes the baby's diapers as there is still much more that the mother needs help with
December is a nightmare for most Nairobi women, when 'Miss Mboch' - the super human of the house who can clean, cook, feed the baby and even spare time to flirt with the watchie and sit down for an Afrosinema break - gets her well-deserved time off to dash to shags for Christmas.
Those two weeks are like a life sentence for the pampered city woman who has abdicated her homemaker role to the housegirl.
And when she's missing in action, most city wives are left clueless, without even the slightest idea how to light the stubborn jiko or where the mop is stored.
They also don't know that the secret to getting toto to eat carrots is slicing them into little triangular pieces.
Indeed, when Miss Mboch is away, women - from corporate types, business honchos to ordinary Mke Nyumbani - are stranded with household chores; from cooking, washing, cleaning, ironing to playing nanny to the resident brats.
Celebs don't fair any better. While the mboch break provides some privacy, a chance to freely fart in the corridor, besides reducing expenditure and those little annoyances associated with breaking mugs, there is stress galore for many women this time of the year.
Take gospel singer Size 8 (Linet Munyali) for instance.
She told The Nairobian that the December holidays are her most hectic, since besides taking care of her hubby and daughter, she's also booked to her neck for performances.
"Woi! It's so hectic, but we have to let the househelp go because they have families also to celebrate Christmas with," she said. "It's the time we either depend on our family to help with the baby, or I go with her to the events kama sina mtu wakunisaidia, since in my line of work I am busiest during the holidays."
For TV actress Wilbroda (Jackie Nyaminde), life without Miss Mboch even during the holidays is much easier as her son is all grown up now and "most of the time, I plan ahead with my house help. I live to her to choose to travel for Christmas or stay behind with us.
Fortunately, she chooses to celebrate Christmas with us most of the time," she says, adding that, "Currently, she is already in Kisumu with my child for the holidays. On the days that she chooses to travel, I rely on my relatives to help, and when we go to shags, the many aunties to my son are always willing to help, so I rarely do much."
Wilbroda adds that, "At his age (the son), things are also easier to handle because I can send him out to play and call him when food is ready. We can also agree on other things like Christmas gifts."
Film producer Juliet Ochieng' says her husband is so hands-on, so she doesn't worry much.
"When our house help decides to stay for Christmas, life is of course much easier. But whenever she takes her break, I have to share responsibilities with my husband. I thank God for my husband because he is very helpful and supportive. My daughter is also old enough and can even prepare her own breakfast," Juliet said.
She added that, "The sad reality is that when you don't have a house help, you can't overindulge at Christmas parties because of the kids. You'll always be forced to leave early."
Fashion designer Chebet Mutai says she runs her home like a business.
"Before, I used to do everything by myself during Christmas holidays. But as an entrepreneur, I have learned to empower and delegate. I have taught my children to cook and do other non-taxing chores. My youngest is eight years and my eldest is 12, but they are very responsible. They can prepare their meals and even bake. That has really made my life easy. Our mothers were super humans and very active. That can't work for me though, hence I deviced a system that works for both my children and I."
Radio Maisha presenter Mwende Macharia says she ensures her movements are limited during this time of the year so that she can take care of her baby.
"I don't do long distance travelling during this time of the year, unless it is to visit my parents. But if we are staying in the city, I always take time off work to dedicate my time to my son. I love to take him to fun events and places because in the process, we get to bond as he enjoys the things he love like swimming, going down the slide, bouncing off the trampoline and other games. By the time we get home, he is always so exhausted he doses off immediately and that buys me some time to myself in the evenings."
Gospel singer Nicah the Queen (Veronica Wanja), says all her activities are now limited to the neighbourhood shop and her house because, like in many homes, "my house help went to ocha on December 18 and I have not left the house since. I can take care of all house chores, except washing clothes which I leave to mama nguo. Limiting my movements and staying indoors works for me because my child is still very young."
Televion actress Awinja (Jacky Vike), a new mother, says she's lucky because she has never employed a house help, as her mother and sister are at hand to help with the young one.
"I live with my mother and sister and they have really come through for me. I have never had mboch dramas."
Actress and producer Janet Kirina says her life comes to a standstill in December.
"Thank God my housegirl is around this Christmas, but whenever she travels, things can become really hard. It is a matter of survival and a burnt meal in the kitchen because I am overwhelmed is not surprising. My baby demands attention and will be following throughout the house. And when the father changes diapers and feeds the baby, it's like he has conquered the world. These are things the housegirl does with so much ease. You have to give it to the house girls. They do so much and you can appreciate this in their absence."