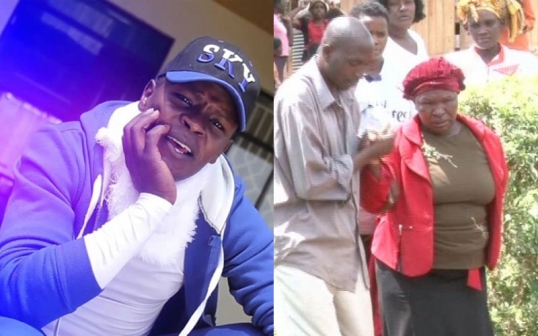 Weldon Cheruiyot AKA Kenene died alongside other musicians in a tragic road accident
According to his mother, Kenene was the sole breadwinner for his family
The family of musician Weldon Cheruiyot, popularly known as Kenene, is still grappling to come to terms with the death of their son.
Kenene died in a road accident alongside other musicians at Kamara along the Nakuru-Eldoret highway on December 9.
The musician and six others were travelling in a Probox from Kericho town to perform in Ilot in Equator, but never made it.
Speaking to The Nairobian, Kanene's mother, Josphine Ngeno said the death of her second born son was devastating.
"I cannot believe he has died. He was our breadwinner and really helped his siblings," she said at their home in Kapletundo Ward.
A sad Ng'eno says she regrets that her son never slept in the house he had just built.
"Cheruiyot has been a strong financial pillar for the family and I wish I was the one who died instead of him. He had just completed building his house, which he was due to move into in a month's time. I wish he lived to occupy that beautiful house he worked so hard to build," said the mum.
Ng'eno a peasant farmer and a single mother, said she couldn't provide for her family and is worried about her future.
"We have survived on his music career and he had big plans for the family," she explained.
Kenene came to the limelight with his single Samantha in 2012 before releasing other songs. His mother says she supported her son's music career since his school days.
"He loved to imitate other musicians when he was young. He would entertain his siblings at the fireplace as they waited for supper. I knew he was born to be a musician," she said.
Ng'eno said she was happy when her son informed him he wanted to pursue music after he cleared high school.
"It was clear from very early that he would be a musician and after finishing secondary education, he started writing songs and soon, I heard him hitting the airwaves with his music," she added.