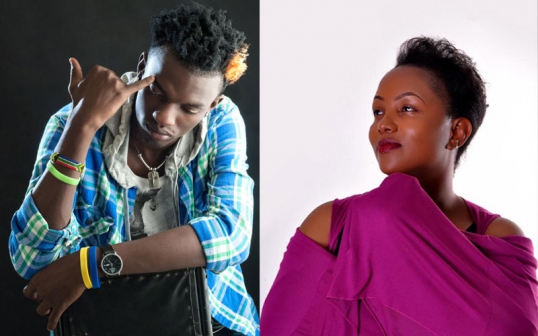 Shusho fell out with Tiger after he allegedly lost her Sh150, 000 camera
According to Tiger, Shusho has been consulting a witchdoctor to ruin his life
Tanzanian gospel singer Christina Shusho has been accused by her Kenyan producer of using 'dark forces' to ruin his life, allegations she has refuted.
The gospel sensation told The Nairobian that she doesn't know Nelson Tiger, the Kenyan who has produced of many of her songs.  
 "Kwani huyo naye ni nani? Nimtafute na mimi nimuongelee kweli, ni nani na ana nini? Tafadhali kama kuna maswali mengine utaniuliza about that guy I don't know him. I have no time for him kabisa! (Who is that and what does he have? If you have other questions about the guy, I am sorry but I have no idea who he is)," she told The Nairobian on phone.
But Tiger says Shusho is pretending to be holier-than-thou.
"She was consulting witchdoctors to ruin my life. I do remember that I when arrived with my ex-girlfriend in Dar for work, that's when things started falling apart," he said.
But Shusho dismissed Tiger's claims, saying the producer needed a mental check-up.
"Mwambie huku wagonjwa wanapona, vipofu wanaona na viwete wanatembea (tell him that here, the sick get healed, the blind see and the physically challenged walk)," she said about the man whom she fell out with musically after Shusho accused Tiger of losing her camera valued at Sh150,000 and in compensation reportedly took Tiger's editing machine worth Sh200,000.
Tiger clarified that he was ready to pay her for the camera. He wrote on Facebook that, "I did meet you and agreed to pay for the lost 7d camera which was your fault. But when I came to Dar with my editing suite, you took it." 
In the past, Shusho was at pains to apologise to Kenyans after a well-meaning social media post caused an online uproar.
The singer, whose hits include Ninang'ara, Roho and Akutendee, posted a prayer for the country and asked God to guide, protect and give Uhuru Kenyatta wisdom to lead the country. Nasa supporters were not happy and took her on.
"It was not my intention to hurt you guys," Shusho said. "Again, I am sorry. Nimalize kwa kusema nina wapenda, na nita endelea kuwaombea. Let love lead."
Shusho added that, "Ninawapenda ndugu zangu, rafiki zangu, majirani zetu wakenya. Upendo huo unafanya nifurai mkifurai, nilie mkilia na niumie mkiumia. Naomba mnisamehe, mlio umia na ku kwazika. Kwa niaba yangu mwenyewe, naomba tena mnisamehe (I love my Kenyan brothers, my friends, and neighbours. I am happy when you are happy, I cry when you cry. I pray that you forgive me, those who were hurt...)"
In a past radio interview, Shusho talked about her salvation, gospel music and humble background.
"I was once a church cleaner before I recognised my talent 10 years ago," she told West FM.
Born in Kigoma, the songstress hails from a Christian family and was born-again at the age of 15. After completing her secondary education, she got married to a preacher called John Shusho in Dar-es Salaam. The union is blessed with three children, two girls and a boy.
From working in the church, she later joined the church choir, which later drove her to try and sing her own solo piece. "I used to sing in the church choir then I decided one day to try out singing on my own, that's how I discovered that I had talent which I had never realised," said Shusho.
Besides singing, she is a model and owns a modelling agency and wonders why Christianity should not be equated to beauty.
"Where I come from, they always equate Christianity to unkempt people and I wonder why can't Christians also be well-groomed inside and outside," said Shusho.