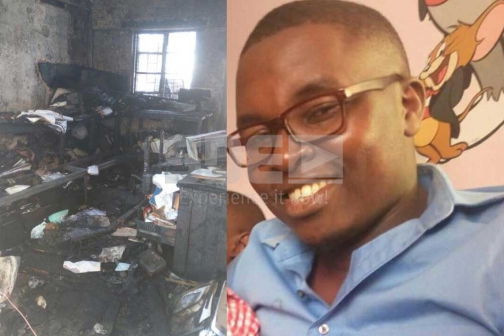 A 32-year-old man died at Kenyatta National Hospital last week after sustaining serious injuries from a petrol bomb attack.
The week was a busy one as most of his clients wanted the attires delivered in time before Raila's arrival.
It is still not clear what the motive of the attackers were, but from the accounts of the family, friends and clients, Martin Otieno was attacked by people well known to him before he could deliver his RESIST T-shirts order to Kisumu.
Otieno who operated a printing and design shop in Seed House had just landed an order to print the famous RESIST T-shirts and caps worn by NASA leaders and their supporters.
It was while working on the order that a petrol bomb was lobbed into his city shop along River Road behind Fire Station.
The week was a busy one as most of his clients wanted the attires delivered in time before Raila's arrival. One of his clients told The Nairobian that he had delivered the first batch to a client in Kisumu and had promised to deliver the rest between Wednesday and Thursday of that week.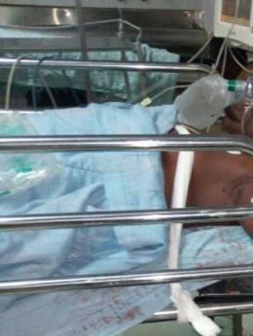 "He promised to deliver everything on Thursday so that we could use them on Friday," said Julie Alindi, a client in Kisumu.
From the phone conversation with Alindi, Otieno had completed the work that Wednesday night and had agreed to deliver the T-shirts the following day.
Otieno was in his office-cum-shop past 9pm on Wednesday before an explosion was heard from Seed House, prompting the fire brigade to rush to the building where he was found unconscious and rushed to Kenyatta National Hospital. Alindi said after he failed to communicate as he had earlier promised, she decided to call his sister who told her what had happened.
Jane Alice a sister to the deceased is lost for words and has very little to say about the events of the day.
What she can recollect is a phone call from the Kenyatta hospital asking her to immediately rush to the facility's emergency wing to check on his brother.
"I was at home when a call came from one of the nurses at around 10.30pm telling me to go immediately to the hospital," she said.
The nurse is reported to have used Otieno's phone which was found in one of his pocket to call Jane.
Otieno sustained 80 per cent burns in the fire.
"When he saw me, he said, 'Takataka inachomeka'. He also asked why I was there. He never uttered a word after that until he passed on four days later," she said.
The question most people now grapple with is what was the motive of the attack and whether it was related to the T-shirts order? Why would someone target a young man who was just struggling to feed his young family?
Unconfirmed reports have indicated that the man could have been accosted by the attackers who beat him before locking him up and throwing a petrol bomb in the shop.