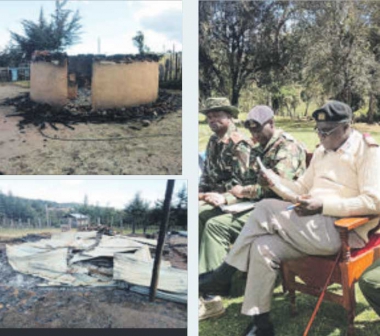 The church that reportedly foretold the death of an elder, who later passed on, is in trouble with the local community in West Pokot.
Houses belonging to followers of The Ministry of Holiness and Repentance headed by Mighty Prophet David Owuor are being torched after elders in Kaptabuk called for the church to vacate the locality. So far, 15 houses have been torched, hundreds of families displaced and property worth millions of shillings destroyed as tension remains high.
Bishop Zachary Kasipoi of The Ministry of Holiness and Repentance said, "The church didn't contribute anything towards the elder's death. There is a lot of misinformation spreading concerning our church."
But elders still took issue with the church, claiming that its "members are not associating with the community, they don't contribute to harambees, they hold crusades without informing village elders and their children don't go to school because their parents spend most of the time in church without taking care of their families."
The elders also charged that members of the church "call other churches demonic and threaten them. We understand there is freedom of worship, but it's not in our community policy."
Bishop Kasipoi said that their church members have been victimised and that when they started the ministry, they faced resistance but managed to open the church.
He added that now church members have been displaced and, "we are seeking audience with the community members not to reject us and perceive us in a negative way."
The bishop said that there is freedom of worship in Kenya and "we hope the village elders will help us solve the matter."
The county's top security team has moved in to end the tension and prevent more houses from being razed down. West Pokot County Commissioner Apollo Okello led a security meeting to seek peace.
"If a house is burnt in your location, just bring your uniforms to my office. We can't allow this to go on because those who burn the houses are from within and are not outsiders," he told area chiefs whom he threatened with the sack if more houses were burnt.
He urged the community to allow church members back as more police officers will be deployed to conduct patrols and ensure peace prevails. He also urged elders to resolve the issue before retaliatory attacks escalates since some KCPE and KCSE candidates had taken refuge in the bushes.
"Even though some of you were provoked by the church's action, there was no need of taking the law into your hands. In addition the traditions and culture of the community should be respected," said West Pokot County Police Commandant Mathews Kuto.