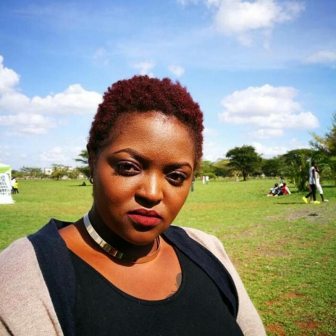 When skirmishes erupted after IEBC announced election results on August 12, SALLINDER NYAWIRA rallied young Kenyans through Twitter to shelter those in distress.
You hosted two women after the August 8 poll. What was their story?
Yes, I hosted two women and a three-year-old child in my house in Ongata Rongai from August 12 to September 2 after the announcement of election results led to skirmishes in some parts of the country.
Where were these women from?
They were from Kibera. Their relative, who lives in Eldoret, reached out to me on Twitter after reading a tweet that I had sent out asking anyone who was in trouble to come and stay with me. He told me that they had been displaced and needed a place to stay.
The two women you rescued, which communities do they come from?
One was Luo – Achieng - and the other Kalenjin - Miriam - and there was a three-year-old girl called Pendo.
Why did you give them refuge? You didn't have to, you know. They could have gone to the police...
I gave them refuge because I put myself in their shoes. I would have wanted someone to do the same for me or for my son if we were ever to be in such a situation.
How did this whole rescue thing begin?
A colleague of mine and her baby was trapped in Kibera with no food. People online were saying Kibera residents deserved what was happening and I felt that was not right. I needed to do something about it.
What did you do?
I sent out a tweet saying, "If you live in Kibera and you feel unsafe, please DM me tomorrow. I can accommodate you until all this dies down. I have room for five…"
And just like that, RescueBnB formed – a group of volunteers who chose to "host" – that is offer temporary shelter and rescue through the provision of emergency supplies. Now we are 168 in number.
How are you organised?
The entire crew of RescueBnB Kenya are volunteers. We all have normal 8 - 5 jobs but we have come together to do this because we felt that this is what the country needs; a people that are there for one another in times of need no questions asked.
The core team consists of 12 people and our volunteers are over 100. The number keeps changing, but we are able to be here because of every donor, every host and every CBO who has ever collaborated with us, and who will continue to collaborate.
And then you went online to buy exam sets for KCPE candidates?
From the activities we did in August and from the testimonials we got and the lives that we had touched, it was easy for schools in distress to reach out to us for help because they had candidates who lacked the tools to sit the exam. So when one school in Kayole reached out (though a CBO which we had worked with), we decided to help them out by asking for well-wishers to donate a few sets.
This was on Sunday, September 29. The response was overwhelming! It turned out that there were several other schools that did not have KCPE sets, and we managed to distribute the surplus to a school in Siaya, one in Kawangware (as well as to three families affected directly) and three in Kawangware.
How much cash did you raise?
In the two days that we requested for funds, we managed to raise a total of Sh188,420 via M-Pesa. Money came from all over the world literally! I got M-Pesa from the USA and from Liberia and of course from Kenyans countrywide who saw the plea and wanted to contribute.
How many kids benefited?
We managed to buy 246 sets – 200 for kids in Nairobi and 46 for kids in Siaya (Ulumba Primary School). Each pack was priced at Sh800, which included transportation cost.
Did you reach out to local leaders?
No, we did not because we were short of time. Additionally, RescueBnB is a collaborative platform which enables ordinary people to share, connect and spread love. It's about the people – all of us. Those who are in need and those in a position to help.
What have you learned in the last one month?
That when you come together as individuals, no matter your influence or background, you can make a difference in anything you set your mind to.
Have you personally been in harm's way during the election period?
Fortunately not.
At 29, you are pretty young. Why are you doing this instead of twerking, slaying and having fun?
Haaa! I cannot twerk to save my life! Look, I am a mother to a one-year-old child who is looking up to me for direction. I must demonstrate the kind of character I am trying to build within him.
Was police brutality and retaliatory attacks in parts of Nairobi fake news?
I don't really want to comment on that, but when you receive calls in the middle of the night, minute after minute until 5am from people in distress, it can hardly be fake news.
What is your message to Uhuru and Raila?
Now that the election is over and results have been announced, they need to work on ways to bring their diehard fans together in order to push the country forward economically.
Do you really appreciate the weight of what you've achieved?
Come on, I am just a Kenyan who believes that you don't lose anything by giving what you have to those in need. No matter how little, it will make a difference.