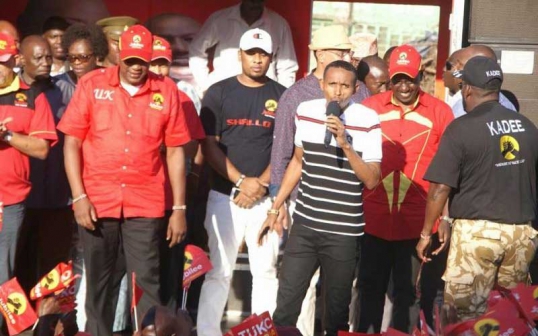 Moha dismissed rumours that he has joined Jubilee party after hosting Uhuru Kenyatta
He says as an independent candidate, he cannot take sides
Nyali legislator Mohammed Ali has brushed off claims that he has defected to Jubilee after he hosted President Uhuru in his constituency on October 9.
Ali who has also distanced himself from NASA party says he played mature politics to host Uhuru in Nyali and would do the same to other leaders to benefit his people.
"I hosted Uhuru to give the office of Presidency its due respect. If Deputy President William Ruto or NASA leader Raila Odinga visits, I will host them too. I don't understand what this hullabaloo is about," says Ali.
He adds, "When I host Uhuru, I am castigated and called names but when Governor Hassan Joho tries to force his way to uninvited Uhuru event in Mombasa, he's viewed as a hero. Why?"
Ali was criticised and hailed in equal measure when he shared a platform with Uhuru at Kongowea market. He now says his political detractors were behind rumours on social media that he had shifted ship.
He says as an independent candidate, he cannot take sides and his focus will remain on what he promised Nyali people.
"I am not in any political party so when they claim I have defected what do they mean? I have moved from which party to which? I hosted Uhuru to show Kenyans how to play mature politics. We have been groomed to see political rivals as enemies and that is perception I am yearning to kill," he says.
During Uhuru's visit to the market Ali pleaded with him to address problems shadowing the traders and his request was honoured the following day.
"About 600 youths have been hired to work in collaboration with National Youth Service staff in cleaning and fumigating the market and unblocking pits and drainage systems. I will ask for more as Joho does not want to develop Nyali".
The first time MP says he should not be viewed as an average politician but as professional harbouring ideologies more than politics. He says in the Parliament he will stand with justice and not political camps.
He lashed out at Joho saying he is behind attempts to topple him through a petitioner who is a relative.
He also alleges attempts to harm him over his vow to bring down drug dealers, land grabbers and cartels in Nyali.