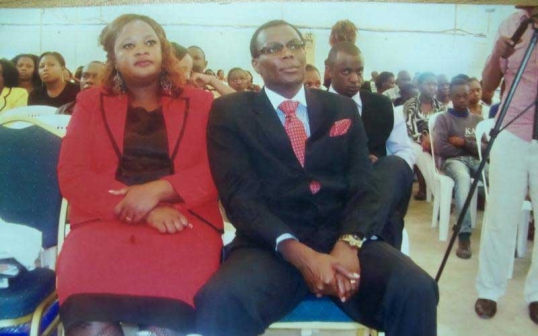 A senior and popular preacher and his wife, also a pastor, have parted ways over infidelity, with matrimonial properties worth millions of shillings at the centre of the dispute.
Reverend Michael Muteti Musango, formerly a senior pastor at the House of Grace church in Athi River (which he has since decamped from to start his own Fountain of Grace Ministries) and his wife, Pastor Evelyne Akinyi, called it quits two months ago after 20 years of marriage.
Pastor Akinyi is now set to face off with her husband in court on a raft of charges not limited to allegations of infidelity.
Akinyi says, among other things, that Musango introduced the name of another woman as a co-director and majority shareholder in a company that owns part of the family property.
The other woman, Reverend Mercy Waruguru Wachira, runs the Agape Lighthouse Church in Kasarani, Nairobi.
Akinyi claims troubles in their marriage started when she discovered that her husband was having an intimate affair with a married church usher, one Damaris Michino, judging from the chain of steamy text messages the two were exchanging.
But Musango has denied having an affair with Damaris or Waruguru, or ever having included her as a director of the company. He further denies kicking out his wife, whom he accuses of being behind his woes.
In the cellphone text messages seen by The Nairobian, Damaris informs man of God that he was a sweeter and better jogoo in bed than other men. In response, a message allegedly from Musango reveals that he gained his bedroom prowess from 'exposure' and warns Damaris against revealing their text messages to other people.
The exchanges between the two include long steamy chats with overt description of 'fantastic' positions, erotic touch buttons on the body, romantic locations, and at some point, amid the steamy chat, a message alleged to be from Musango reveals that he lost his grandmother, before the conversation gets back to the sex path.
Musango denied ever having had an affair with Damaris, whom he says was ex-communicated after being caught on camera stealing church offering.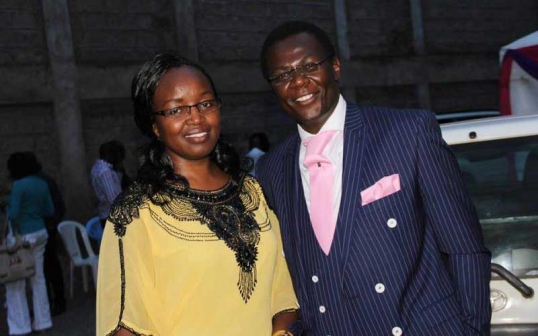 "You don't' know me or the challenge of running a church. It is not true that I had a relationship with her. Doing so is akin to mocking God," Musango told The Nairobian.
Contacted, Damaris claimed that she neither had an affair with Musango nor stole church offering. She explained that, "I was ex- communicated over the allegations, but I was not shown the footage as claimed. It is also not true that I have slept with him or dated him.... unless you show me the alleged messages."
Besides Damaris, Akinyi says Waruguru is the other woman in her husband's life.
At one time, she claims to have bumped into Waruguru driving her husband's car when he was abroad on church business. She says that when she confronted her husband over it, he sent her a nasty text calling her names.
In the messages seen by The Nairobian, the message that is said to have come from Musango dismisses the wife as a "shameless bitch" who has been harassing and attacking people who are innocent because of her character and moral deficiency. "You think I will ever accept you back? You are doomed and divorced," the message reads.
In April this year, Akinyi travelled to Dallas, USA, for a 10-day conference, but upon returning, she was allegedly thrown out of their matrimonial home by Musango, a matter that was reported to the police and booked as OB 37/06/05/2017 at Athi River Police Station.
"When I travelled, we were living in a rented house in Sabaki, but upon my return, I found that he had shifted to our new home in Lukenya, leaving me with a few old furniture and other items" she said, adding that, "When I went to the house in Lukenya, I was shocked to find Waruguru's daughter in one of the rooms. Apparently, she was there for a sleepover. It was strange because we have grown-up sons only."
On allegations of having thrown his wife out, Musango charged: "How can you prove that I threw out my wife? In fact, the complaints that were made at Athi River Police Station are all lies that were made up to fix me. Let me warn you that whatever you are investigating is against the word of God!"
Contacted by The Nairobian, Waruguru response was: "I can't talk about that, just go ahead with your investigations."
Akinyi narrated that, "Drama started around 2015 when my husband started staying away for long hours without coming home or church since some members would visit and ask for him."
She says that Musango would often claim that he was in town but would come home late "and sometimes he would even spend the night, forcing me to stay awake waiting for him."
According to Akinyi, her husband "sometimes left me to manage the church alone even though other members would request to see him."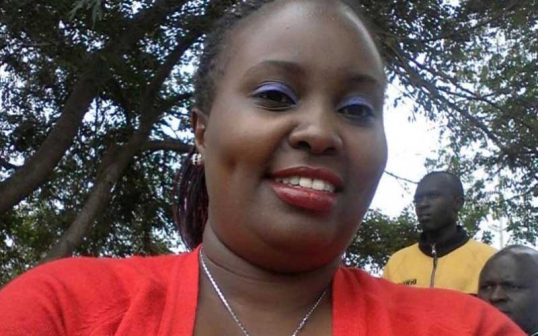 She further claims that her husband's sexual escapades were among the issues shared with church elders in an attempt to fix their marriage.
Following their tussle, the mother church, in a letter dated March 9 and signed by the lead Bishop and founder of House of Grace, Bishop David Muriithi sent the two on compulsory leave following deliberations at a board meeting at the church headquarters.
The letter informed the couple that the compulsory leave was meant to help them "address unresolved issues in your marriage that have gone on for years and have affected the church in a negative way".
The letter continues to say that, "As per your request in the meeting, your sabbatical will begin on March 7, 2017 and you will be expected to report back on July 6, 2017. While on your sabbatical, you will be entitled to your monthly salaries". Akinyi however claims that her husband decided to change the name of the church and even declined to pay her salaries even though he pays himself a six-figure salary, travel allowance among other benefits.
Musango confirmed that he changed the name of the church from House of Grace to Fountain of Grace Ministries, Athi River.
He told The Nairobian that, "The name was changed a long time ago. I know many people have been paid to tarnish my good name, but God will fight for me. People can use any means even fabricating stories to tarnish my name. I know my wife is behind this."