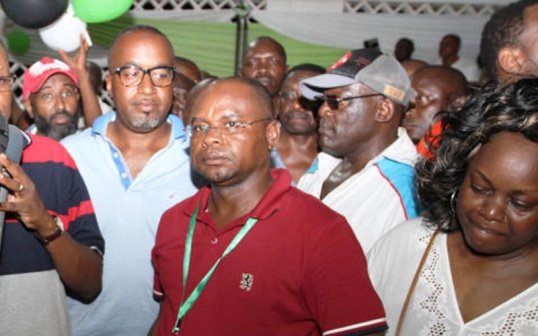 Women in Homa Bay County, including Mbita MP Millie Mabona love Governor Hassan Joho so much that they sent Governor Awiti to convey their message of love to the 'Sultan.'
Never known to mince words, Awiti said, "All these women love you, all this women admire you."
On a light note, Awiti promised to issue land to Governor 001 so that he can build a home in the county.
"When you come back to Homa Bay, we will give you a piece of land here," said Governor Awiti.
The happy Homa Bay governor locally referred to as 'Akuba,' also revealed that Mbita MP Millie goes crazy whenever she sits next to the Mombasa governor.
Governor Awiti said, "Gesa Gesa has told me kichwa yake inaenda kus kus kus when she sits next to you," he said to the amusement and roars of laughter from the audience.
The confessions of love for Governor Joho took place at an Orange Democratic Movement (ODM) youth convention held at a Homa Bay hotel on July 2 and attended by the Mombasa governor.