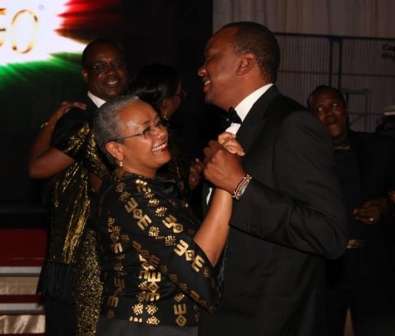 President Uhuru Kenyatta has many women - in his Presidency.
In fact, of all the former presidents, and that includes his father, founding President Mzee Jomo Kenyatta, he has the most. The old Kenyatta mainly had First Lady Mama Ngina Kenyatta by his side in public functions. Her bearing in the fulcrum of public affairs was not public knowledge. But Uhuru's kitchen Cabinet has the highest number of women.
Unlike his old man, President Uhuru has many women who, behind the scenes, are said to be the 'soft power' of his presidency. And more than ever before, these women hold crucial positions even as Uhuru bids for a second term in the do-or-die August 8 General Election.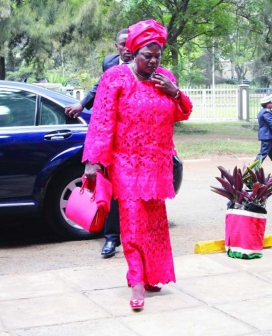 These women include political old-timers, battle-hardened war horses, nabobs in the civil service, corporate high-fliers and emerging smart lasses from the professional ranks. They have been assembled and deployed into various battle fronts of the Jubilee campaign machinery.
You will find most of these women actively showing up at political fundraisers, nocturnal strategy meetings and professional lobbies, steering committees and ethnic and regional caucuses.
Here goes...
Leading the pack among the old-timers is the media shy, wealthy and respected matriarch of the Kenyatta political and business dynasty, President Uhuru's mother and former First Lady, Mama Ngina Kenyatta. Indeed, Uhuru's mother is not only his central pillar, but one of the most important on the list of all the president's women.
In her motherly and matriarchal role, Mama Ngina takes the prize for doing the donkey work for her son, running difficult errands of knocking at consequential political doors, smoothening explosive situations, and breaking a few bones and egos along the way.
Twice in as many years, Mama Ngina has waded into the political murky waters in suave, cunning and unnoticed ways until the deals are cut and sealed. The public - and those on the opposite end of things - only come to learn about them through leaked newspaper headlines. By then, it is too late for any potential adversaries to do anything.
As an illustration into the workings of Mama Ngina and her role in the political life of her son, consider the recollections of the late Kiambaa MP, Njenga Karume. He recounts in is his 2009 bio, Beyond Expectations: From Charcoal to Gold, how Mama Ngina paid him a courtesy call one day in 2002.
By the end of the visit, she had persuaded the business mogul to abandon, not only his life-long political friend, retired President Mwai Kibaki, but also bolt out with all his trustees who financed both the Democratic Party and the National Rainbow Coalition (Narc), and support Uhuru's first bid for the presidency.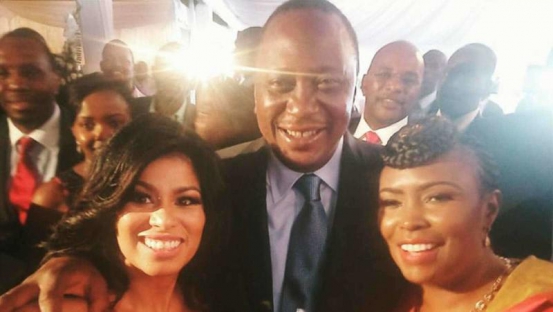 The public - and candidate Mwai Kibaki himself - never got a whiff of the negotiations until Karume called a press conference.
Kibaki was so stung, he called his own counter press briefing in which he called Karume a 'tribal chieftain', among other adjectives he's never used to describe any other politician in all his 50 years as a politician (at least not in public).
Mama Ngina also plays a symbolic role as was evident at the height of Uhuru and Deputy President William Ruto's indictment on crimes against humanity charges by the International Criminal Court in 2011.
Mama Ngina attended a prayer rally held for Uhuru and Ruto in Gatundu, where she held the hands of Uhuru and William Ruto and with a prayer, released them to face their accusers at the ICC.
"I want to give these two who are here the parent's blessings before they can go. I am sure they will overcome this," she said.
That symbolic gesture sealed the fate of a powerful coalition that swept into power in 2013 with a rallying call to oppose foreign jurisdictions.
And just in January this year, she visited retired President Moi at his Kabarak home in Nakuru County when a clash of delicate egos between the pre-eminent crown prince of the Kalenjin politics, Senator Gideon Moi, son of retired President Moi, and the rough-riding Deputy President Ruto threatened to derail Uhuru's re-election support among Kalenjin voters. Before the meeting became public, it was evident the relations between Gideon and President Uhuru had deteriorated so much - thanks to constant public blusters of Gideon by the Deputy President.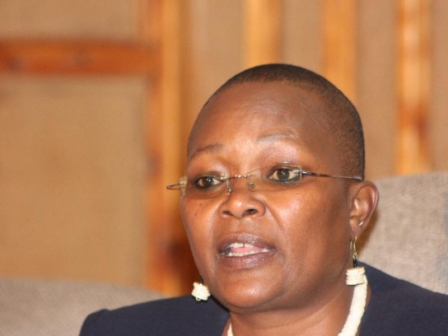 To observers, it seemed like just a matter of time before Gideon threw his lot - and war chest - into the the nascent National Super Alliance (Nasa) campaign. In fact, his party secretary general Nick Salat was captured on national television at a Nasa meeting chanting his now famous tuko ndaaani kabisa refrain.
Mama Ngina swung into action, and went knocking at Gideon's dad's door. The details of the planning and the meeting itself never leaked until it was over and pictures of Mama Ngina and the retired President at Kabarak splashed across all media platforms.
In a few days, Gideon had abandoned his imminent slide towards Nasa, and held a private one-on-one meeting with President Uhuru and retired President Moi. The rest is history. Such is Mama Ngina's stealth and subterranean operations.
Exit Mama Ngina and in steps President Uhuru's cousin, nominated Senator, and former Cabinet Minister, Beth Mugo.
She is President Uhuru's political guardpost alongside Dr Naomi Shaban, the Jubilee Party Deputy Majority Leader and Mugo's former colleague in retired President Kibaki's kitchen Cabinet.
Mugo, the soft-spoken former Public Health Minister and Dr Shaban, the dentist-turned-politician, are among the few powerful functionaries whose paths Deputy President Ruto steers clear of from his expansionist orbit. Ruto, abrasive and all, is careful not to cross or step on their manicured political toes.
Just so you know how powerful Dr Shaban is, when she sensed some unseen hand apparently trying to muscle her out of the Jubilee ticket for re-election as Taveta MP, she simply wrote a resignation letter, announcing her stepping down as a Jubilee Party member.
This was in essence boldly daring President Uhuru to make a choice between his Deputy President - who was in charge of the Jubilee party primaries - and herself. That she rescinded her decision to quit the party tells you who was batting in her corner. 
For this election, Beth Mugo and Dr Shaban have been deployed at the Coast to work up old business and political networks, besides being the eyes and ears of the President on the political terrain.
Below the political landscape, Uhuru's re-election campaign also stars a slew of top civil servants and corporate high fliers. Here, you can slot in the chair of the Public Service Commission, Prof Margaret Kobia and Principal Secretary for State Department for Social Protection, Susan Mochache. Add too Kenya Pipeline Corporation Director, Felicity Nkirote Biriri and State Department for Interior and former secretary to the cabinet nominee, Dr Monica Juma.
Dr Juma is the wife of University of Nairobi lecturer, political strategist and newspaper columnist, Prof Peter Kagwanja.
The eloquent scholar-turned-civil service mandarin's role in Uhuru's rise to power is often overlooked, even suppressed. But before joining mainstream civil service, Dr Juma was Kenya's Permanent Representative to the African Union (AU) Commission in 2013.
She played a defining role during the famous 'Shuttle Diplomacy' against the ICC to whip up the support of the AU as Uhuru and Ruto were being indicted for crimes against humanity charges at the ICC.
Uhuru's vote of confidence in Dr Juma's loyalty, skills and competence was demonstrated when he nominated her for the coveted post of Secretary to the Cabinet, before ethnic political sentiments from Murang'a County (her husband's home county) and incendiary public statements from senior politicians from Ukambani spoilt it for her during the vetting process.
While Mochache, an accomplished communications management expert and a former Safaricom senior employee features at caucuses and professional lobbies working up professionals and businessmen from her Kisii community to support President Uhuru's re-election, Prof Kobia and Nkirote do the same among the professionals, academics and businessmen from Meru community who live and work in the city.
Kobia and Nkirote were among prominent daughters of Meru who graced Senator Kiraitu Murungi's fundraising as he saddled up for the Meru governor's race at a Nairobi hotel two weeks ago.
A third tier of emerging younger generation of women political operatives inside the re-election campaign strategies include former TV journalist turned lobbyist and lately civil service upstart, Wangui Muchiri. The former CEO of Nairobi Central District Association is the CEO of the amorphously named National Government Communication Centre(NGCC), under the State Department of Interior.
The NGCC is domiciled on the 23 floor of the Kenya International Convention Centre (KICC) and is said to have recruited some former senior media executives recently retired or retrenched from mainstream media.
Going by her background as a messaging and publicist for the South Africa-based US State Department's operation, Africa Media Hub, Muchiri and her team have the 'official' mandate of developing and distributing government communications.