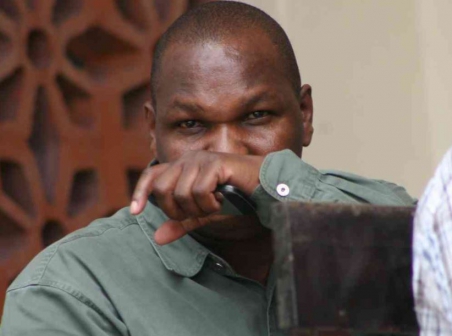 Farouk Teigut Kibet rose from nowhere to the inner circles of power. His shadowy character and operations has left people wagging their tongues. For the last four years, Farouk has been considered the point man and top aide to Deputy President William Ruto. He is mostly the one who determines the fate of those seeking to see the DP, either at his office or elsewhere.
The Deputy President's personal aide is a smooth operator who keeps a watchful eye, taking in every detail for subsequent review at the DP's functions. Farouk mentally notes the who is who and who says what. He spots out fellow power brokers in the crowd for future engagement.
The public got a glimpse of Farouk when his name featured in the public over allegations of receiving money from a suspect in the National Youth Service (NYS) Sh791 million scandal. Farouk was also mentioned by the International Criminal Court (ICC) Prosecutor, Fatou Bensouda, for alleged involvement in the 2007 post-election violence. Bensouda claimed that Farouk stormed the Eldoret Police Station at the height of the violence. She also accused him of tampering with ICC witnesses in the debacle that was the case against the DP at The Hague.
Read Also: William Ruto man in sex scandal: Businessman accuses him of luring spouse
Farouk's academic background is hazy. The man is said to have attended Chepkemel Primary School, but few can pinpoint which high school he attended. A palatial home in Eldoret with a protruding red roof, palm trees, intimidating gate, high brick wall and an electric fence give a glimpse of the man's taste. This is supposedly his home.
A neighbour claimed Farouk occasionally lands in a chopper without interacting much with the neighbours.
Attempts by our sister newspaper The Standard to trace Kibet's roots in December 2016 did not bear much fruit, since nobody in his village of Kapkechui, Chepsaita, on the border of Uasin Gishu and Kakamega counties, wanted to talk about him. Those who know Farouk recall how he used to roam the streets of Eldoret town in the early 1990s, engaging Kanu Youth Wingers in animated discussions on how to boost the then ruling party's fortunes in Uasin Gishu and his home area of Turbo Division.
Some said he excelled in football in his earlier years, while others testifi ed to his generosity in building churches through fundraisers.
Many of the people interviewed by our sister paper on Farouk's mysterious life complained that he was rude to them and over-protects the DP.
Others claimed that the name Farouk Kibet was a red herring; that his real name is Benjamin Kipkazi.