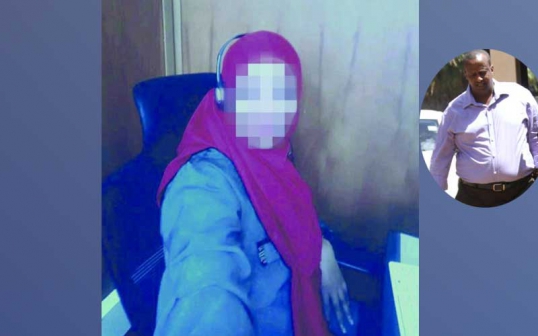 I am a 32 year old Kenyan from Garissa town. I am currently engaged but plans for my marriage ceremony have hit a snag.
My problems started in April this year after a friend told me that there was a job opportunity at Nairobi County Government, we talked as a family about it and a relative was tasked with the responsibility of getting me the job.
See, at that time, I had a job but like every other Kenyan, I was simply looking for greener pastures. However, I did not know anyone and I had no connections till a close relative told us that she knows someone who happens to be a politician by the name captain Abdi Yare who is also vying for the Garissa Town Parliamentary seat.
So she called him up and asked him if he is in a position to help me out which he said he could do right away.
That is when she gave him my number so that he could contact me, communicate directly about the job issue. The following day, I received a call from Captain Abdi and we talked at length and he even told me that the current Nairobi governor is his good friend and that he would talk to him and get me the job. At that point, his instructions were that I should wait for his feedback. He then sent me a text message and asked me to send him my CV and he also gave me his email.
Later on, he told me that he had met with the Nairobi governor and gave him my CV and that the governor promised him that he will employ me. Few days before the Easter holidays, he told me that after Easter holiday he will personally bring me the appointment letter from Kidero and I believed him. In fact he asked me to resign from my then employment because the county needed my services immediately.
We stayed in touch and since he is a distant relative and also from my village and we share the same clan, I believed every single word that he told me. This is a man who is not just from Ogaden clan, he is a close friend and associate of my father, what reason could I have not to trust him? I resigned from work and quickly moved to Nairobi in time for my new employment.
As I waited for the appointment letter, mheshimiwa started sending me funny and seductive text messages on phone. Out of respect, I always referred to him as Adher, a Somali name used out of respect by a young person to the brother of your father; in Kiswahili we would use mjomba.
At first, I thought it was wrong text sent to me, but gradually he became seriously obsessed with my beauty. At first, I told him that despite the fact that he is an elder from the clan, I have a fiancée and am getting married soon.
However, my plea fell on deaf ears, instead he increased the tempo and instead resorted to sending me images of his manhood, video calls and even showing me how good he was in bed.
Whenever I asked him about the job he kept on promising me that he is it was just a matter of time before I report for duty at City Hall but first, he wanted us to meet so that I could help him relax. My attempts to reach him on phone during the day bore no fruits, on a daily basis he used to talk to me at night and our conversations would run late into the night.
When the job did not materialize within the first week, I asked him about the status because I really needed the job but he told me not to worry and that he would take care of me in anyway needed and pay my bills as he waited for the Nairobi governor.
He even asked me to meet with him at an exclusive hotel room to discuss about the job but I declined. He kept on sending offensive messages and sending me offensive pictures of his privates and videos too.
This man has betrayed my trust and my family's respect. I have spent sleepless nights in sorrow and anger. When I opened up to my man about the story, he got mad and put all our marriage plans on hold.
I have had to deal with trust issues at an early stages of my relationship with my hubby to be. I am jobless and my family is falling apart.
As narrated to Zach Macharia