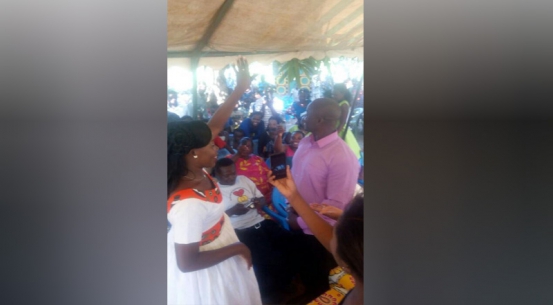 A Mombasa woman is accusing a pastor of branding her an agent of Satan after she saw her hubby with tattoos on his body.
 Eunice Jefwa, claims that a Pastor Rose, has turned her family against her and even excommunicated her from the church.
She claims a friend introduced her to the pastor after she returned from working abroad.
 "I had been away for two years and was looking for a good church. I also needed prayers to secure a visa to join my fiancé in Germany.
When I told her my fiancé would be visiting for bride price payment, she demanded that I bring him for prayers too,which I did," she said.
Eunice says things took an ugly turn when Pastor Rose saw the tattoos on the man's arms.
"When we went for the prayers, my fiancé was wearing a short-sleeved shirt and the tattoos on his arm could be seen. The pastor couldn't believe her eyes. She declared him a Satanist and told my family and everyone in church to avoid us.
We were blacklisted a few days to our pre-wedding and I did not know what to do," says Eunice, adding that, "She has brainwashed my mother, who now doesn't want anything to do with us. I am hurt since tattoos are not satanic."
Though the couple got another preacher to officiate over their wedding ceremony, Eunice's mother apparently refused to bless their union fearing she might die if she did so.
"Members of her church did not attend the ceremony since Pastor Rose told them that if they ate the food served at the wedding, they would die. She goes ahead to tell people that I will offer them as sacrifice to gods. My own family has turned against me," she claimed.
Reached for comment, Eunice's mother said, " I am only human, but whoever described my daughter as a Satanist was speaking through the power of the Holy Spirit and therefore cannot be faulted."
 Efforts to reach Pastor Rose were fruitless.