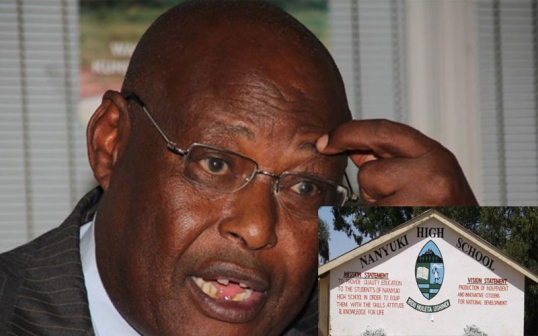 Nanyuki Boys High School in Laikipia East was established in 1965 with 320 boarding students and more 160 as day scholars.
The school was initially registered as a three-streamed school, but the government later advanced it to A-level stream in 1983 — after posting impressive academic performances.
Today, the boys' boarding school sitting on 53-acre land has attained a population of 700 students. The day-schooling system came to an end when G.G.K dormitory named after area politician Godfrey G. Kariuki was built.
Nahischo as it is nicknamed is where former Parliament Speaker Francis ole Kaparo was nurtured. Here he studied in the open — dormitories were some old condemned military barrack belonging to the Third Kenya Rifles. It is the reason the school is also called barracks.
The old alumni walked for two kilometres to have breakfast in the open before spending precious hours chewinging books in classrooms which were at one time used bakery. Ole Kaparo would later join Shimo la Tewa Secondary School.
Renowned novelist Meja Mwangi munched meals in an outdated dining hall that has since been renovated and new administration block built.
The Laikipia East legislator Mutahi Kimaru also sat his final examinations in 1985 here — when life was still dull with obsolete facilities.
Nahischo lived to toughness of barracks ,and form ones were forced to fake a phone call home by placing a stinking, dirty shoe on their ears.
Life in GGK Dorm alias maternity, cube 17 and 10 and Cambodia was rough especially at the hands of ruthless seniors. Take one Gitonga whose slaps were christened "Za ajabu".
But Rev Mugwe was at hand to spread the gospel and hymns from Golden Bell. Mugwe also taught CRE and Physics — but would not entertain literature he perceived as bound to 'brainwash' his boys.
Other notable alumni who intoned "Bidii huleta ushindi" motto and donned in navy blue trousers, shirts and green cardigans Laikipia county revenue authority boss Kamunya Karundo, Finance director at Griffon Africa Ltd Peter King'ori