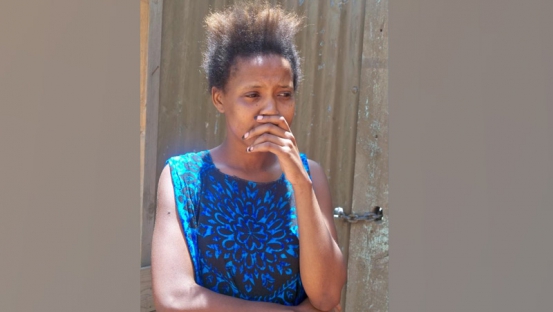 Happy Moraa, 19, was recruited into lesbian porn at Mercy's place. She worked for more than four months before she quit following misunderstanding.
Moraa dropped out of school in form two due to lack of school fees since she comes from a humble background. This did not deter her attempts to search for greener pastures that saw her leave for Mombasa in mid-2016 to stay with a sister while hunting for job.
After some days at the coast, a cousin called her with the promise of hooking her up with a friend who was looking for a househelp in Nairobi.
That's how she arrived in city and met Mercy Anyango who briefed that she was not really looking for a househelp, but a girl like her to chat with white men for a Sh10,000 monthly salary.
"When we arrived at the house, I found it a bit weird after she taught me how to chat online while naked and kissing her privates or performing for other people in the house. After two weeks, she brought another girl and told me she is my partner and started paying me Sh5,000 every week" she said.
"I started having sex with my partners depending on what clients wanted, sometimes using sex toys, licking privates and other crazy things. I had to do it because I needed money," says Moraa.
But she says trouble started when she refused to have toy sex with Mercy for a client who had paid Sh20,000. "I refused and the client had to be refunded his money.  That made Mercy furious".
Moraa claims she was once assaulted by a group of women until she passed out and woke up with swollen face and injured limbs.
She says she had to call for help because she was locked in her bedroom and that after she returned from treatment at a nearby clinic, she was not allowed into the house.
She reported the assault at Savannah Police post under OB 13/12/3/2017 and later filled police P3 form before seeking refuge at a relative's house.
But Mercy also claimed to have been assaulted by Moraa who reportedly stabbed one of the women with knife.
She reported the matter at the same station and it was booked under OB number 30/26/3/2017.
None of the women has, however, followed up on the cases.
RELATED ARTICLES