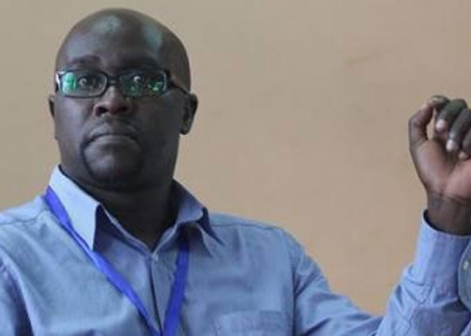 A top newspaper editor is allegedly being investigated for sexual harassment. 
The editor is accused of waving a pistol at a junior female colleague who refused his sexual advances at the company's office in Kisumu, two weeks ago.
Close sources claim that Emeka Mayaka, who was based in Kisumu, has been recalled to Nairobi, with the shocking incident triggering sexual harassment claims from current and former employees who worked under him. Mayaka has however denied these claims saying he did nothing illegal.
On the material night, the boss assigned late night duties to a young female journalist with instructions that she delivers the story to his desk in person.
The Kisumu office has suites where late night staff can spend the night.
When she delivered the story, Mayaka is said to have demanded to know how she was hired before stating, "I want to sleep with you."
This, according to our source, turned off the young journalist who though desperate for a job, begged the big man to stay off the topic.
It is then that Mayaka, who is a PhD student and a part-time university lecturer, reportedly reminded the girl of his position, jurisdiction, exploits in journalism and powerful contacts he has.
When the female journalist remained unmoved, he is said to have whipped out a pistol from his waistband and enquired from the girl whether she had ever had the privilege of dating a licensed gun holder and why she was rejecting his advances.
Sources close to Mayaka however say he only brandished the gun to brag rather than forcefully have his way with the junior.
"Mayaka is a show off and a perpetual kill joy. He wants to undress all women working under him while demanding male subordinates to address him by starting and finishing every sentence with 'Sir'," revealed our source.
The victim only gathered courage to lodge a complaint a week later. Worried bosses quickly summoned Mayaka to Nairobi, and he has been deployed to the Twin Towers' third floor where he has been assigned some nondescript editing work as 'investigations' are carried out by the media house's security chief.
"The bosses reached out to the victims and asked them to record statements before launching further investigations," said a source familiar with the matter.
Mayaka, an accomplished and senior journalist, made his authority felt when he set foot at Mega Plaza where the Nation bureau was located in 2013. Staff at the office found it difficult to acclimatise to a new no-nonsense boss who demanded to be addressed as 'sir.'
Not long after, allegations of sexual harassment from his female staff started emerging.
Then, the office had more than three female staff in the editorial department. According to one of the women, things became tough for her because every time she sought transport to go out of town on assignment, she was turned down.
"At some point, I stopped asking for the office vehicle and would take public transport to pursue my stories in other parts of Nyanza and Western region," she says.
Apparently Mayaka was angered at one point when he did not find her in the office and quickly drafted a suspension letter.
"Though I explained to him where I was, he still went ahead and handed me a suspension letter through the receptionist. I was not allowed access to the office for two weeks," she says.
When she finished serving her suspension, she says, he called her and told her that he was allowing her back because she was a good journalist. However, one week down the line, he reportedly started seducing her, particularly during her off days.
"He would tell me he wanted to take me for dinner, but I used to decline the offers. One evening, I asked why he wanted to take me out to dinner to which he responded that he wanted to have sex with me," she said.
She claims that when she turned down his advances, Mayaka stopped giving her assignments.
"He started frustrating me and even went to the extent of telling me that my contract was not going to be renewed. This was an eye-opener to me. That is when I started looking for another job. Three months before my contract lapsed, I got a better job and resigned," she says.
Speaking to The Nairobian, another female colleague alleges that Mayaka tried to take advantage of her in exchange for permission to attend a training in Uganda.
"He made it very clear that I had to sleep with him before going for the workshop. I promised to do the needful when I returned but I did not. This made things very difficult for me," she said.
When she refused to honour the promise, she was given a two-week suspension.
Then there is a case of an intern who to date has never received her recommendation letter. Although she doesn't want to talk about the matter, she lets it slip that Mayaka insisted on sleeping with her before he could give her a recommendation letter. She chose not to give in, and to date, has never received the letter.
Another female employee says Mayaka has several times asked her, "What can your husband do that you think I can't do?" She refused turned down his advances and is now afraid that her days are numbered.
When The Nairobian reached out to one of the female journalists who could not take the sexual harassment and resigned, she said the issue has traumatised her and that she was not willing to talk about it.
"I am letting bygones be bygones. I don't want to talk about my experience in that office. What matters is that I finally got my recommendation letter," she said.
When reached for comment, Mayaka said he could not comment on any of the allegations levelled against him.
"I cannot make any comment on this. You will have to speak with my superiors. I am a very small person and only my bosses can give you the official position," he said.
When asked about the  alleged gun brandishing drama, Mayaka charged that, "You need to be working from a criminal report, and if there was one, I would not be here in this organisation, because these are illegal activities." He added that, "If you go ahead and publish anything about me, If you go ahead and ruin my reputation, I will sue you."
Efforts to reach the company's Group Editor-in-Chief, Tom Mshindi were fruitless.