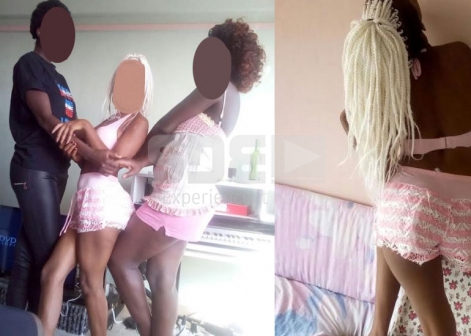 There is a live porn broadcast for men and women - married and single - to watch lesbians in action, The Nairobian can now reveal after months of investigations.
Amateurs live-stream erotic or pornographic performances which are also watched live by rich clients in a gated community in Savannah estate in the Donholm area of Nairobi at a fee.
Our undercover investigations eventually led us to the door of one of the residences. A soft knock at the door that mid-morning is responded to by a half-naked young man, who assumed we were  clients and cordially ushered us to an upstairs room.
Here, we found four women in the act, two on the floor engrossed in cunnilingus, while two women were on a sofa kissing ravenously in front of two laptops with web cams.
Mercy Anyango, 29, the ringleader, attempts to switch off the laptops and alert the two naked young women on the floor, but it is too late by now. She stretches up in shock but composes herself to say, "We are in genuine business, online modelling, nothing more".
One of the laptops recording the live session has an advert of what the women do to each other. And what they do is stuff that can terrify a virgin who is wet behind the ears to death!
On the floor, panties are strewn all over, as are massage oils, bottles of whiskey and all manner of sex toys.
Anyango explains that, "What you have witnessed is not real. We just act like licking each other's privates or use sex toys to get money from white men who enjoy watching us. We also see them (clients in other countries) jerking off."
For both live and online sessions, the women are paid between Sh5,000 and Sh20,000, depending on what clients want them to do to each other.
Anyango further reveals that, "I was in the United States for studies for more than five years. I used to do this and that's how I got connections from clients abroad and started the business here."
The only man in the house is Dan, Mercy's boyfriend, who led us into the house. His role is to satisfy clients online and those in the room, by pleasuring himself in front of the web cameras.
"Life is hard and I don't want to see her (Mercy) doing it alone. I do it for money," the soft-spoken Dan opens up.
Liz Adhiambo, one of the women we found in the act, says, "I met Mercy in a club. When she recruited me, I thought it was just housework. But when she revealed that this is what she wanted me to do, I had no choice because I needed the money. We act for money. She pays me Sh5,000 every week. We make a lot of money. I own a room here and enjoy life. However, I don't allow my children who are here to watch what we do."
We saw hundreds of photos of naked women who usually flock here for sessions, including some in the last stages of pregnancy.
According to our sources, Mercy has introduced the business to other well-off women in Westlands, South B and other upmarket areas. Her Savannah home, for which she pays Sh40,000 in monthly rent is a six-bedroom residence that accommodates more than six women. The house has a high wall and electric fence. There is a back-up generator that ensures power and internet connection is never interrupted. The parking can accommodate up to six vehicles.
There are three self-contained rooms upstairs with a spacious kitchen, deep freezers and refrigerators stuffed with foodstuff and both hard and soft drinks.
Apparently the police have unsuccessfully tried to raid the residence before but could not locate it. After our investigations however, we tipped the cops who managed to access the house and apprehend one of the girls.