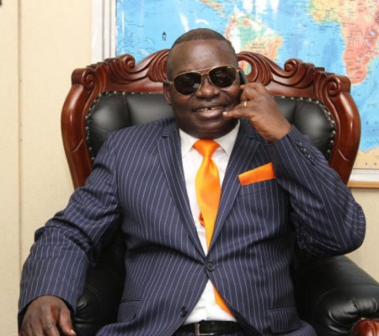 Paul Kobia, according to the UN Report released in 2011, uses different names: Paul Ilunga Ngoei, Paul Ilunga Choma and Paul Ilunga Kabeberia.
Kobia is reported to have a customs office at the Jomo Kenyatta International Airport "which only operates at night." It has seven doors, only accessed through fingerprint and retina scanning. According to UN investigators, he has (or once had access to) a Government of Kenya seal, and letterheads from several government and private institutions.
With the help of these facilities and documents, Kobia purports to trade in gold mined from the Likasi mines in the DRC.
However, UN investigators say, the gold is usually non-existent or counterfeit, with buyers tricked into paying tens of millions of shillings in various fees before learning they have been defrauded.
"Kobia allegedly gets police (officers) to man the door at the (Great Lakes Group's) JKIA office and engages the services of a person referred to as the 'Chief Customs Officer'," a confidential source reveals.
"After they have been shown gold at the airport office (linked to Great Lakes subsidiary Sapphire Freighters), prospective buyers are told to deposit money in an escrow account to cater for lift charges (airport charges, customs fees, freight and clearing costs)."
However, once buyers dealing with Nairobi's gold merchants deposit money in escrow accounts, they lose the cash and do not get any gold. The most common reason the gold scam artistes give is alleged objections or demands for documentation by local, regional, or international authorities.
The gold fraud cartels have been using the same lawyers for the transactions.
Another was under investigation by a banking fraud team in 2010 after about $10 million (Sh1 billion) stolen from a US company was found in his firm's account. In 2009, using the name Paul Ilunga Ngoei, Kobia allegedly received $350,000 (Sh35 million) from the US-based Community Finance Group as part payment in a deal for 300kg of raw gold, a deal that turned out to be a con.