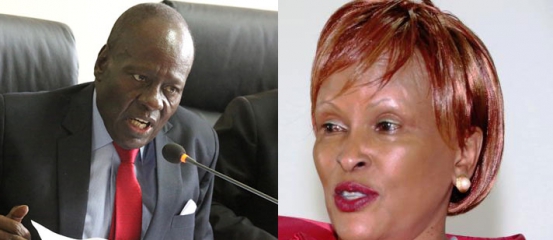 Death comes to all men, as it finally did to billionaire Governor Nderitu Gachagua. He becomes the first county boss to die in office, besides making history as the only one to be elected in Central Kenya outside President Uhuru Kenyatta's TNA (The National Alliance) party during the 2013 elections. Gachagua was elected on the Grand National Union (GNU) ticket.
After two years of trying to use conventional medicine in top London hospitals, spiced up with miti shamba sneaked from Kenya, the Nyeri governor eventually succumbed to pancreatic cancer at the Royal Marsden Hospital in the United Kingdom.
The outspoken county chief known for no holds barred political contests with MCAs and lavish parties — even when ailing— was ready to hire a private jet for a grand arrival home from the hospital. But this was not to be. A mourning Rigathi Gachagua, his brother and former Kiambaa District Commissioner, said it was a difficult time for the grieving family.
"This is a very trying moment for us. He had shown tremendous improvement and was looking forward to kicking off his re-election bid as soon as possible," said Rigathi on telephone from London. "Even when he was weak, sickly and travelling to and from hospital, he never neglected his responsibilities."
The death of the 64-year old has opened up a Pandora's box that was his love life with different women angling for his billions. Last year, Gachagua's fortunes increased after the government paid his company, Vipingo Beach Resort, about Sh1 billion for 62 apartments demolished in Nairobi's South C for the construction of the Southern Bypass. The apartments stood on 1.2 acres of land.
Barely hours after Gachagua died, tenants who live in his vast real estate empire received letters from Gachagua's sons, asking them to no longer deposit rent into their father's account, but to instead deposit the money in a new account held by the sons. Gachagua died on Tuesday morning at 2.15am, and by midday, tenants had received letters asking them to deposit money in the new account.
A tenant whose identity is withheld because he fears victimisation from the new landlords, shared with The Nairobian the information, while marvelling at the speed at which the sons had acted.
"Gachagua's body was not even cold before the sons directed us to pay the rent into their accounts," he said.
The quantity surveyor turned politician had two wives officially known to the public: First wife Margaret Nyokabi who lives in London, and Margaret Waithiegeni, the second wife who doubles up as the Nyeri First Lady. Both are now busy organising Gachagua's send off. Waithiegeni has been in the public limelight since Gachagua took office.
The third woman in Gachagua's life is nominated MCA Eva Githaiga.
Then there are two other women close to the fallen county chief who might be crawl out of the woodwork and demand a share of his estate as well. This state of affairs has spiced up funeral preparations in his two homes in Mathira and Nyeri town.
Incidentally, dignitaries - including several county First Ladies - are condoling with Waithiegeni at the family's palatial home on Ring Road Estate, Nyeri, while other family preparations are underway at the expansive countryside home in Hiriga, where prayers are being held. Nyeri residents were however surprised to learn that their governor had another wife, Margaret Nyokabi, who has been living in London with his four children - Susan Kirigo, Mercy Wanjira, Ken Gachagua and Jason Kariuki.
According to Rigathi, the family members in London will attend the funeral which is expected to take place at his home in Hiriga Village, Mathira Constituency. "It was my brother's wish that we lay him to rest here at his Hiriga home, next to our father's grave," said Rigathi, who is the family spokesman.
Since her husband's illness, Waithiegeni has kept a low profile, rarely attending public functions.
It is unclear what the budget for the funeral will be, but the late Gachagua was known for extravagant public barazas in his Hiriga residence. When Nyeri County Assembly was passing the motion to impeach him as governor, Gachagua hosted almost 2,000 people at his Hiriga home.
Nyeri MCAs who wanted to impeach him have in the meantime, been sending condolence messages, which Rigathi says are not sincere. The MCAs, who had accused him of interfering with the running of county affairs when the governor was ailing, hit back at Rigathi saying that they will not condone his interference in county affairs and vowed not to be intimidated.
Rigathi has been jetting in and out of the country, but managed to attend the swearing in of Deputy Governor Samuel Wamathai, where he stated that, "We as the Gachagua family are willing to assist governor Wamathai with our political muscle to ensure that he is able to finish the great projects my brother had planned for the county."
Educated on coffee proceeds, Gachagua will be remembered for taking on coffee cartels in Nyeri where he spearheaded the joint milling and marketing of coffee by Nyeri farmers.
Related Topics