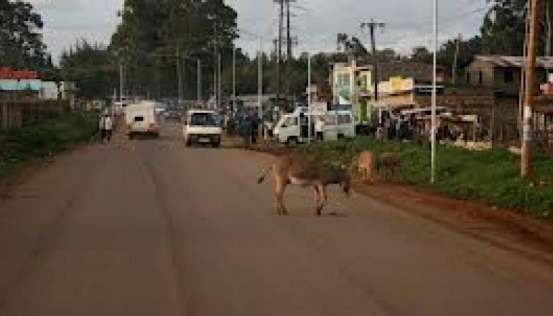 Cold misty Limuru has no rivers.
So, young boys growing in the frost-bite weather hardly experienced duff mpararo.
They needed a map and pictures to locate River Nyando during geography classes. One grown-up with parental hair on his chest saw River Chania for the first time and couldn't help alighting from his jalopy to splash water on himself like a boy in the cusp of adolescence.
Limuru has famous sons.
Consider Caesar Gatimu. He was born in Limuru in 1921, the year Sir Edward Northey was Governor of Kenya. Lady Northery Nursery School along State House Road (which UK attended to learn 'sha-she-shi-sho-shu' was named after his wife).
Gatimu founded Bishop Gatimu Ngandu Girls High School when he was the Catholic Bishop of Nyeri after he was consecrated by Pope John Paul XXIII in November 1964.
Prof Ngugi wa Thiong'o is another famous son from Limuru.
He put Limuru on the map with his Kamirithu open-air theatre, where peasants staged Ngahika Ndeenda, (I will marry when I want) in 1976 through 1977, before he was detained for exposing the Kenyatta government in this politically charged play.
Then Central Province PC David Musila, now MP for Mwingi South, later summoned the peasants to destroy the wooden amphitheatre in March 1982 under the watch of three truckloads of police.
It was later razed to the ground as Ngugi (who later went into exile) recalls in Penpoints, Gunpoints and Dreams, his effort of 1998 that explores the relationship between the arts and political power.
And regarding power, Limuru has had renowned politicians like James Gichuru, Kenya's first finance minister. He was the area's MP from 1963 to 1979, but was known for spending more time in Karai Bar in downtown Nairobi than in Limuru.
This prompted voters to appeal to Jomo Kenyatta to act, but the old lion could do little regarding the matter, considering Gichuru stepped down for him to become the chairman of Kanu. Uhuru's old guy couldn't even sack Gichuru for whom Mama Ngina reserved cold Whitecaps, just in case he dropped by in the company of his eternal thirst.
Duncan Ndegwa informs us in Walking in Kenyatta Struggles: My Story, his memoirs of 2009, that Limuru residents were in Gatundu just as Gichuru checked in from a trip abroad. When he got wind of what was afoot, he retorted: "How can anybody say that I err by drinking?
I work very hard, so I have to drink. Look, I have been given this beer here, thanks to your hospitality. Could I refuse? Do you think ministers are appointed to play football?"
Other notable politicos include the late Kuria Kanyingi and George Nyanja - whose firm, Nyanja Associates Architects, designed the Nyayo National Stadium.
And oh! you can't talk about this place without mentioning Bata Shoe Factory.
Established in 1939, it makes Limuru the one place in Kenya with the least shoeless people.  The factory churns out 60,000 pairs of shoes a day, or 30 million pair of shoes a year!
Limuru is home to Limuru Girls School, Limuru Country Club and All Saints Cathedral. Designed by Howard Archer, the cathedral grounds is where famous anthropologist Louis Leakey and his wife are buried.
Brackenhurst Conference Centre is in Limuru. Initially owned by Mr and Mrs Hudson Cane as Brackenhurst Hotel (when Sh7 was enough to get you bed and breakfast), it was where Limuru Day, punctuated by fancy dressing and a donkey procession, was held in the 1920s.
Limuru grew, like most towns in Kenya, with the Uganda Railway which was integral in the transportation of not only the early white settlers, but tea as well, which was established in there around 1903.
Indeed, Limuru Tea Company has the most expensive shares (besides BAT) at Sh1,000 plus per share at the Nairobi Securities Exchange.
Limuru also has gifted artists from Limuru's Ngecha village (Kenya's capital of art and where one out of 10 kids born become painters.
Then there is the ubiquitous Limuru donkey. Did you know  that the name Limuru comes from Ilmur, which is Masai for donkey droppings?