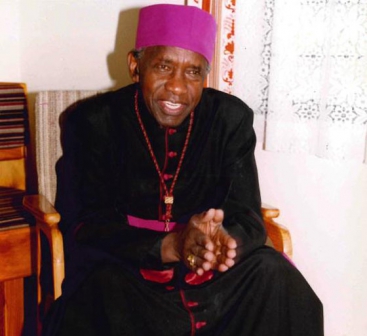 A young man had just finished his seminary studies in Morogoro, Tanzania.
He was full of excitement, looked forward to being ordained a priest back at home in Kenya.
But here was a problem. His parents did not have the slightest idea he was studying for priesthood. If he was to become a Catholic priest he had to get the blessings of his father, a traditionalist.
Mindful of his father's reaction, the young man prepared traditional beer for his father and his fellow elders. Having succeeded in placating his father, he proceeded to break the news that he was about to join the priesthood.
It soon became apparent that, among other things, the young man would never marry and therefore would never present his father with grandchildren.
As the soon-to-be priest was explaining himself, his sisters, annoyed by the direction their brother was about to take, made such a noisy spectacle the father was forced to chase them away. After calm had been restored, the old man had one question for his son: "What if you do not succeed?" "I will come home," responded the son.
The man then took a sip of his drink and upon further reflection had this to say: "If you do not succeed, this is your home; come back." That was all the blessings the young man required from his father.
This anecdote is fleshed from, A Voice Unstilled, the biography of Archbishop Ndingi Mwana 'a Nzeki by Waithaka Waihenya's and Fr Ndikaru wa Teresia.
Unknown to the old man, the act of giving blessings to his son bequeathed the country one of its best-known and best-loved of Catholic clergy.
Ndingi is best remembered as the fearless Catholic bishop who did not hesitate to speak his mind, not matter how powerful the adversary was.
He was the first public servant to speak about the Molo clashes that ravaged the Rift Valley in the run up to the 1992 General Election.
According to the book, published by Longhorn, Ndingi's outspokenness started manifesting itself from his days as a seminarian at the St Thomas Aquinas Senior Seminary, in Morogoro Tanzania, when as a prefect he interceded for fellow seminarians to the Father Rector, on the issue of bad food and poor housing.
Much later, after he was made the first African Bishop of the newly-created Machakos Dioceses, Ndingi had the guts to speak out against the mass oathings that were taking place in Central Kenya, with the tacit approval of Kenya's first president, Mzee Jomo Kenyatta.
The book appears to suggest that his challenge to Kenyatta's government led to his transfer from Machakos to the Diocese of Nakuru, where again he became the first African bishop.
He was to spend two and a half decades in Nakuru and that is where he came of age and cultivated his brand as a fearless clergyman and a defender for human rights. Interestingly this was a time when retired President Moi was at the height of his powers. That he chose to take Moi head on at his backyard is testament to Ndingi's steely resolve.
While serving in Nakuru, Ndingi was known to be a simple man, only using a simple Peugeot for his travels. This however changed when he became the Archbishop of Nairobi.
Soon after his arrival in Nairobi, the late Njenga Karume gifted him with a brand new Mercedes Benz. This got tongues wagging. "...some could not understand how Ndingi could be driving around in a vehicle perceived to be the grandest representative of opulence while he had always come through as a humble and simple priest," says the book.
Ndingi eventually shook off the criticism and continued using the luxury car.
Maybe one of the most challenging instances in Ndingi's long life as a clergyman was when he felt let down by a young priest, who broke his priestly vows by entering into a relationship and fathering children with a nun. Ndingi had been quite fond of this particular priest that he saw a possible successor in him.
Even after confessing that he wanted to leave priesthood and be united with the nun on marriage, Ndingi still prevailed upon him to follow his priestly vocation and abandon the woman.
"Even after the priest wrote to the Vatican explaining his circumstances, the bishop advised him not to send the letter. When he finally wrote to the Vatican asking to be laicized, Ndingi felt betrayed.