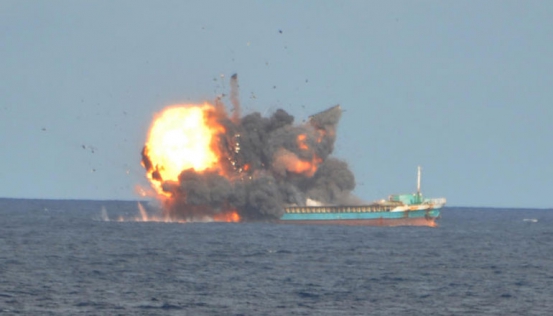 A Sh1.3 billion heroin trafficking trial is facing a new setback after defence lawyers questioned the validity of the state's evidence presented in court.
The trial has lurched from crisis to crisis, starting with the sudden death of the captain of the vessel on which the drug was found.
President Uhuru Kenyatta had ordered that the ship be destroyed — even before the court could visit and test the evidence.
Now defence lawyers want a report by the government chemist confirming the presence of heroin in liquid and solid form aboard MV Bushehr Amin Darya Alnoor expunged from the records on grounds that detectives visited the ship and retrieved it in the absence of the suspects or their lawyers.
Chief Magistrate Julius Nang'ea also questioned why the detectives took samples of the drugs without the participation of the suspects or their lawyers.
Defence application
"I agree with the defence lawyers that the law is very clear that when a sample of any drug is being taken from the scene, the suspect or their lawyer must be present," said Nang'ea, adding that he needs to go through the file before deciding whether to uphold the defence application.
"However I am dismissing this application to allow me to go through the proceedings in the file to find out if there are other facts to support the evidence," said Nang'ea.
Defence lawyer Cliff Ombeta for three suspects said: "We are rejecting the production of this evidence made on August 29 2014 because none of us — including the suspect were there when the samples were being taken by the police and the government analyst."
The trial of nine foreigners, including two Indian students and three Kenyans, has been assailed by state mishaps that have threatened the case. The mishaps include the unauthorised destruction of the ship on August 29, 2014 by the order of President Kenyatta in contravention of two court orders.
A judge ruled two years ago that the state interfered in the trial by ordering the destruction pending the identification of the vessel's owner, against two court orders.
Yousuf Yaqoob, Yakoob Ibrahim, Saleem Muhammad, Bhatti Abdul Ghafour, Baksh Moula, Prabhakara Nair Praveen, Pak Abdolghaffer, Vikas Balwan, Muhammed Saleh, Khalid Agil Mohamed and Kenyans Mohamed Osman Ahmed and Maur Abdalla Bwanamaka, are accused of trafficking 377.2 kilos of creamish granular heroin, valued at Sh1, 13,672,000 and 33,200 litres of liquid heroin valued at Sh189, 000,000. They all pleaded not guilty to the charges.
Orders from superiors
In June last year, Chief Inspector Peter Mulinge admitted before the court that he took charge of the storage of the drugs at the GSU camp in Mombasa on orders from his superiors, although he was not mandated to do so.
Mulinge also admitted that although he took charge of the consignment, he did not confirm if it was narcotics as indicated by his superiors.
Related Topics