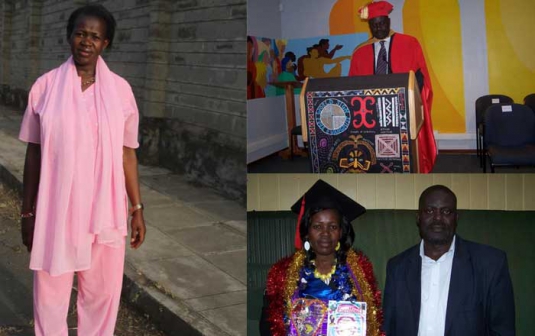 A Catholic priest and university lecturer is in trouble after his secret marriage to a police woman exploded following claims of infidelity and physical assault.  
Fr Anthony Ichuloi Oure however claims he left the pulpit five years ago after he fell in love with Dorothy Mbusiro, who was a nun.
But the Catholic church insists he is still a man of the cloth. 
Dorothy now wants the Catholic church to take action, claiming Fr Oure ruined her life after impregnating and leaving her to take care of their love child alone.
She also claims the miscarriage of their second child was caused by physical abuse by Fr Oure after busting him on their matrimonial bed with other women, including a prostitute.
The priest denies ever triggering a miscarriage during one of the many fights as claimed by Dorothy.
However, he does not deny being the father. "I cannot deny the pregnancy is mine.... It might be, it might not."
Roman Catholic priests and nuns are supposed to observe their celibacy vows, which Fr Oure broke by marrying Dorothy before they acrimoniously separated over infidelity claims.
The duo met in Eldoret in 2005 at a convent where Dorothy was being inculcated into sisterhood.
Then based in Spain, Fr Oure had visited the convent on official assignment. The priest, however, showed interest in her on the first encounter.
The mother of one claims the cleric lied to her about his exact role in church.
Fr Oure would then make frequent visits to the nunnery, where he made sexual advances towards a coy Dorothy. The priest claims he knew Dorothy in 2005 through a social media platform.
The priest and cop are now engaged in a bitter public spat as the Church remains undecided on the action to take against Fr Oure who was ordained on July 28, 2001, and before his marriage, was attached to the Consolata Missionaries in Karen, Nairobi.
Consolata Missionaries' Secretary, Fr Arias George, said though Fr Oure has personal issues, the renegade priest is still one of them. "Yes, I know Anthony," Fr George told The Nairobian. "He is still a priest because his problem has not been solved by the Church," he explained.
Fr Oure, 49, married Dorothy, 32, in December 2013, but they started experiencing problems barely three months into their marriage.
Dorothy is accusing Fr Oure of being a serial womaniser and his constant infidelity is allegedly the reason for their constant fights before they parted ways recently.
"Nimechoka na huyu mtu, analala na kila mwanamke hata malaya bila aibu (I am fed up with this man, he sleeps with every woman, including prostitutes)," she alleges, citing an incident in which they fought after she caught her husband in bed with another woman in their house in Nakuru's Kasarani estate.
Dorothy claims Fr Oure became physically abusive when he confronted him about the female guest. She lodged a complaint at Kasarani Police Post under OB number 02/28/10/2015.
She claims to have miscarried  following the beating for which she was admitted to the Rift Valley Provincial General Hospital. Two months later, Dorothy claims to have been physically assaulted again and the matter reported at Central Police Station where it was recorded under OB 46/2/12/2015. 
But Fr Oure accuses his wife of cruelty, claiming he too has been a victim of assault until he ran away from the abusive marriage.
"How would you feel as a man if a woman uncovers you, touches your private parts and starts shouting that you f**k every woman?" posed the priest, who without much elaboration, explained that he quit the church five years ago on his own volition. 
Dorothy on the other hand claims that, "The priest used to visit me often while I was at the convent (in Eldoret), but I was hesitant because I knew he was a priest." In 2007, she quit the convent and joined the police force.
Her first posting was in Nakuru in 2008 after she graduated from the Kenya Police Training College in Kiganjo.
Around the same time, Fr Oure returned from Spain, igniting their friendship "but he left the country for South Africa for his PhD studies," Dorothy says. She adds that, "He came back in 2013 and asked for my hand in marriage, saying he was ready to settle down and start his own family." 
To prove he was serious about the marriage proposal, Fr Oure went to Consolata Missionaries where he picked all his belongings, to demonstrate that he was calling it quits as a Catholic priest.
A marriage process started with Fr Oure and Dorothy seeking the blessings of their parents in December 2013.
"The priest went down on his knee and proposed with a ring after his studies in South Africa. Because we had been friends, I fell into his trap," says the cop, adding that they started living together as husband and wife, a decision she now regrets.
 Fr Oure says that his wife was disrespectful, obsessive and always suspicious.
He claims he ran away from her after frequently being assaulted.
"Dorothy has disoriented my life. When I decided to leave the priesthood, I had hopes of a lovely wife, but I was wrong after she turned out to be abusive and violent," claims the priest.
At the time of the marriage, Fr Oure was allegedly jobless, but Dorothy helped him secure employment at a university in Nakuru where he is a full-time lecturer in the department of history and religious studies.
Not long she was transferred to Nairobi, leaving her husband in Nakuru where she claims he slept with students, married women and 'night nurses.'
"How would you feel if you caught your man sleeping with a prostitute in your matrimonial bed?
I was left with no words after the woman said she was a sex worker on the streets of Nakuru," says Dorothy while defending the decision to end the marriage which she claims she has tried to save by requesting for a transfer to Nakuru.
She claims all her efforts have been in vain after Fr Oure allegedly refused to change his randy ways.
Dorothy claims her husband, a native of Kotur village in Amkura in Busia, has fathered children with other women.
But Fr Oure also claims that Dorothy sometimes returned home in the wee hours during which she would start unnecessary quarrels and accusing him of infidelity.
He recalls the day he was kicked out of the house at night when he paid a visit to his wife at her Nairobi residence at the Police Dog Section Unit staff quarters in Lang'ata.
"I am not interested in this woman. If I am sleeping with a prostitute, it is not her business. We parted ways after he kicked me out of her house. She should stop monitoring me," charged the Catholic priest.