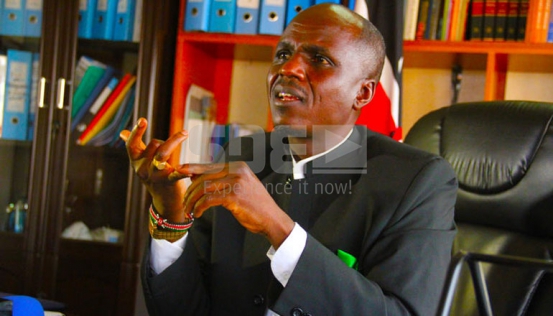 Who is Kennedy Mong'are Okong'o?
I am a sharp shooter. I talk straight. I don't entertain petty issues. I am down to earth and I have a heart for the people. I did my O levels at Sameta High School and didn't qualify for local university because Ihad been expelled and only came to do exams.
 I had been expelled because I couldn't just sit and watch wrong things happen. I eventually went to India where I did a degree in political science, a degree in law, and a post graduate diploma in journalism and communication at the Indore Christian College.
Why do you want to become president?
I wanted to become president 30years ago. All my life has been about leadership. I have always wanted to help people. I always fight for people's rights. The main issues I will deal with is education for all citizens, a meal a day for all citizens, appropriate healthcare for all citizens, make devolution a reality and fight corruption.
Other countries poorer than Kenya have food for its citizens, medicine in hospitals and education for all, why can't Kenya do it?
In 2002, I contested parliamentary seat in West Mugirango. I dropped out of Kenya School of Law to go contest and came in fourth out of eight candidates. It was my first taste of politics. I had been a student leader in India and real politics was different from school politics. But I ran because I wanted to see if I stood a chance to be elected later.
After losing elections, you can't disappear; you have to show people you are still solid, so I built a nice house in the village, and villagers said it cost Sh15 million and used to visit the village in new cars every week, so they also said I had more than 20 cars. I got fully into community welfare.
Can't you follow the 'normal' trajectory in politics? Go for another post before going for president?
Governors are exalted mayors. If I had wanted to be a governor, that would have happened a long time ago. I got 15,000 more votes than what the governor got.
I knew back then what being a governor entails, but I am a town boy, I wanted to go to parliament. And I promised people I would only be here at the Senate for five years.
You are in Ford Kenya where party leader Moses Wetangula has declared presidential interest...how will that work?
I will not run on Ford Kenya ticket. There are other parties I can choose from.
Everyone running for president this year is a billionaire. Are you a billionaire and how will you fund your campaigns?
I am not a billionaire, but I am a man of means. I can comfortably engage in politics, and my family will still be stable. My budget for presidential campaigns will not even cost a billion, maybe half of that.
Other people spend billions to campaign, but they never use their own money. They fundraise from those who have looted this country. I will fundraise from Kenyans, not multinationals and shady businessmen.
How do you make your money...
I had a construction company which I closed down after becoming a Senator. Now I concentrate on my law firm and Senatorial duties.
Why did you want to pass a motion to impeach Uhuru?
He has broken more than 16 laws, enshrined in the constitution. Everyone has a right to life, but for five weeks now, doctors are on strike. Who does the buck stop with? Kenyans are dying or hunger, isn't that a right to life?
The funny thing is that no opposition MP has agreed to table the motion because the motion has to be tabled in parliament. Can you imagine, the fiercest critics of the current government, are too scared to stage a motion that will get rid of the government that are fighting to remove.
I am in talks with a few other MPs to see if it will happen.
(His office has photos of his wife)...Your wife is Indian, didn't you meet any resistance trying to marry her?
My wife is a career woman, and she works to save lives. We met when she was doing her Masters in the medical field. I didn't have issues about marrying her because I was not marrying her for the community but for myself.
Of course, there is always slight resistance with inter racial marriage but I am happy to say I got a good woman, and we are happy together.
Which is the best decision you have ever made in your life?
The best decision I have ever made in my life is deciding to go to school. In my childhood, I was involved in a lot of delinquent behaviour.
We did a lot of bad things with my child hood friends and going to school saved me. I thank God that I survived I was never arrested. Nearly all my childhood friends are dead.
Which is the greatest blunder so far?
In 2005, I joined the ('No Team') for the constitution; and the ground had shifted against the 'Banana'. 'Orange' was winning. I was in the 'No Team' with the incumbent Henry Obwocha and being seen together campaigning against the constitution, people started propaganda that I was a protégée of Obwocha.
That cost me a lot in 2007 elections. I went back to the drawing board and started studying voter psychology. In the last elections, I knew very well that I was going to win if I stood for any seat, and I now had to choose the best party. I was warned about ODM, and told I won't get the ticket even if I won the nominations.
I then joined Ford Kenya. Okong'o Omogeni, who I was running against, had Raila vigorously campaigning for him but my party leader, Wetangula never even once, came to campaign for me, but I won by an overwhelming majority.
Who has been an inspiration in your life?
That is my mother. She has been a pillar that I lean on in everything I do. My father died when I was young. My dad was a watchman and a carpenter. The only words he knew are 'son' and he would call my sisters and I, 'son'.
He died when I was young and his friends tell me he was a good man. I have through my political interactions, come to meet a lot of his friends and know so much about the man. He was a good man.
How do you spend your free time?
I unwind by spending time with my family; I sleep, once in a while I got out to a club and dance, and take a glass of wine. But majorly I read to unwind.
You are rarely seen in political rallies...
I don't fly around the country following party leaders and hurling abuses at others. Air ticket to Mombasa is Sh20, 000, so instead of spending that money following other politicians around, I can drive to Nyamira and buy 57 textbooks for pupils in primary school.
The text books would go a long way to helping them, something that would have happened if I followed party leader around the country. In the grass roots, they call me Okon'go wa Vitabu.