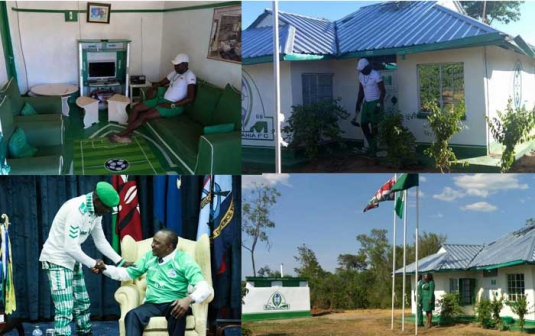 Good fortune smiled at Jared Otieno aka Jaro Soja after Kenya's most powerful man offered him a job at the Sports Stadia Management Board — which has since been succeeded by Sports Kenya.
Jaro, an ardent Gor Mahia fan was part of the K'Ogalo procession that paid President Uhuru Kenyatta a courtesy call at State House after winning the Kenyan Premier League in 2014.
It was during the visit that Jaro, dressed in his traditional green and white regalia, sang the famous Gor Mahia anthem in his thundering voice, compelling the Head of State to salute.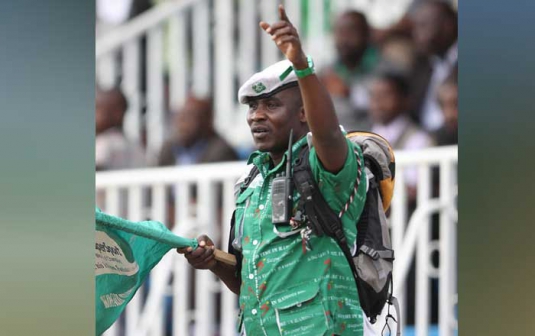 His passion and discipleship for his team seemed to have won the president's heart after he offered Uhuru Gor's jersey number 1.
It was then that President Uhuru issued a directive that he be employed at Sports Kenya.
Today, three years since landing the job, Jaro, the self-proclaimed Commander-in-Chief of the Green Army, is a different man — a happier man with a roof over his head, a house he built soon after landing the job at Sports Kenya.
"Before I met the president, I didn't know I would have such a house. Now, everyone treats me with respect and is ready to assist me because of my closeness to the Head of State," he says, adding that, "I thank the president for changing my life from a mere Gor Mahia fan to someone with a decent life."
Jaro has now invited President Uhuru for his house opening ceremony in his Gem rural home, Siaya County.
"It would be unfair for me to celebrate alone without thinking about the guy who made me what I am today," Jaro told The Nairobian, adding that, "I will not rest until Uhuru attend my house warming ceremony."
Asked if he would vote for Uhuru in 2017, Jaro said: "When we met, the president liked me because of my love for my team Gor Mahia. He didn't ask me which political party I belong to. That is what makes him stand out."
The K'Ogalo die-hard told The Nairobian that he has bought a goat, which he will slaughter when the president visits.
"I know Unye loves nyama choma. I have bought a goat for him, a fat one at that," he revealed. He says plans are underway to invite youths from Gem who want to interact with the President.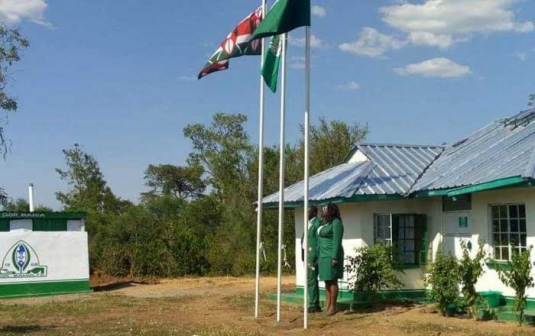 Jaro's new house is two-bedroomed, fully furnished and all green in colour. Two of the three flag masts at the front of the house have the Kenyan flag and Gor Mahia flag, proof of his loyalty to his country and team.
The Nairobian will wait and see if Uhuru Kenyatta will honour the house-warming invitation.
Related Topics