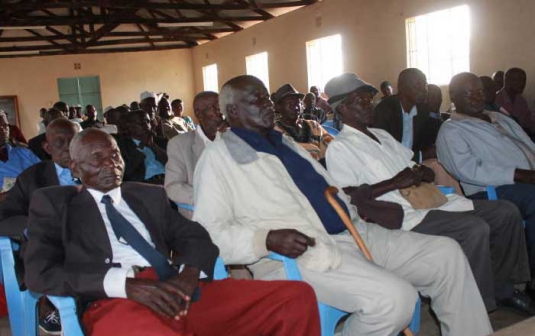 If you are a young man from Rangwe constituency, elders may curse you over political reasons.
This follows a stiff competition which has emerged between elders and youths in seeking attention of politicians in the area.
The search for attention is now culminating conflict between elders and youths.
The senior citizens complain that the youths forcefully deter them from accessing politicians during public functions.
This makes the elders compare accessing their elected leaders to chances by a 70 year old man to win a hundred metre race involving youths.
But the politicians are not to blame for this. Instead, they attribute the blame to youths whom they describe as the greatest obstacle.
A number of elders who met at Ndiru Chief's camp to install their MP George Oner as an elder raised concern that the youths are taking advantage of their energy to frustrate them.
The issue was first raised by an 80 year old elder, Joshua Anyango Gondi.
Gondi says they have developed fear whenever they see youths near any politician in the area.
This makes them stay without articulating their issues to their leaders.
The senior citizen accuses the youths of violently pushing them away from politicians to avoid expressing their views.
"Youths have developed the habit of pushing us to an extent that one may end up suffering dislocation of muscles.
They consider us as people who should not talk to politicians because of old age," said Gondi.
 
The elder argues that the young people should change their habit or suffer from wrath of the elders.
One of the punishments is cursing the youths if they cannot change their conduct. "We have talked to the youths but they don't want to heed to our advice.
I think they want us to curse them so as to be aware of our seriousness but doing so is also dangerous because it may deny us prosperous generations in future," he said.
Another elder Shadrack Muga tells youths to respect elders.
"Some of them feel they are the ones who own votes. They should stop blocking us since we are the pioneers of the fruits of the country they are enjoying today," said Muga.