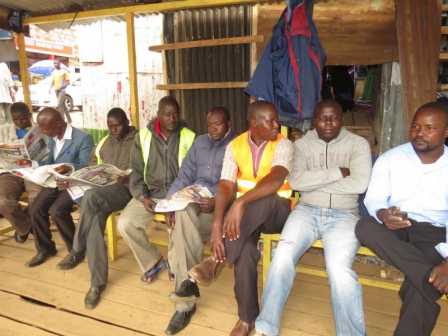 Boda boda operators in Migori County who do not have identity cards (ID) are finding hard to operate their businesses.
For the past one week, officials of the boda boda operators in the County have declared that those who do not have ID cards will not be allowed into their various centres — and will no longer be recognised by their unions thus throwing thousands into a limbo.
Their Vice chairman of Migori motorbikes welfare association Rynus Onyango told the Nairobian that they took the step when they realised that many of their members are youth between the ages of 18 and 30 who did not have IDs.
When the Nairobian visited Otange boda boda stage in the heart of Migori town, only a handful of operators were in sight and it was not because the rest had transported customers, many had left the stage because they do not have IDs.
At the shade donated to them by Migori Governor Okoth Obado are placards written; "Do not sit here if you do not have an ID"
Onyango who is also a Newspaper vendor despite belong an official of the boda boda business where he used to work before he became a vendor says the sage had over 50 operators and currently, only ten show up since they announced the initiative.
He says many also have now gone to register for IDs citing that the initiative has borne fruit.
"Insisting that our members have IDs is not only to enable them register as voter but also for security purposes because we do not want stranger masquerading as boda boda operators amongst us," Onyango said.
The official said that many youths are political hecklers who would sit and politic all day but that without IDs and consequently voters card, their politicking would amount to nothing as only voting would bring change.
The boda boda industry has employed over 50,000 youth in the entire county and according to their officials, half of them do not have ID cards especially those in the rural areas.
Geoffrey Okoth a member of the Otange stage who has an ID says the youth can participate in good governance right from their wards up to the presidency by taking ID, voters card and voting in good leadership but instead, many of them are hired in political events to cause chaos and havoc.
"We want to set a better and positive precedence, our trade has had a bad name especially during political times and we want to be counted as an industry that can stir change,' Okoth said.
The boda boda officials said they will roll the initiative to all motorbike stages in Migori County and even markets where even women traders will not be allowed to operate without ID cards.
They also warned the registration officials over laxity in processing the ID cards and chiefs who despite the government providing them with transport, "have sat pretty instead of collecting the cards from the registration offices and liaising with village elders in distributing them in the villages," they said.