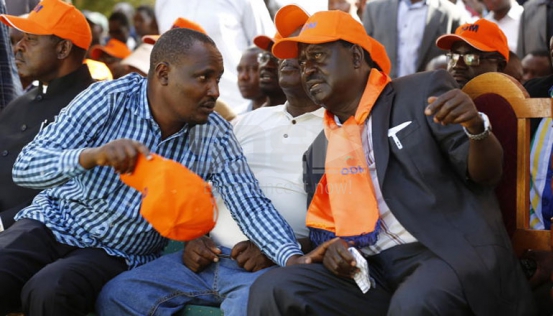 A section of politicians from the Orange Democratic Movement (ODM) have accused the party's chairman, John Mbadi, of highhandedness.
The legislators have expressed fear that party leader Raila Odinga's quest for State House could be dented if people like Mbadi are allowed to mislead the party.
Nyatike MP Edick Anyanga recently lambasted Mbadi for poking his nose in his backyard in what he considered an attempt to interfere in party nominations.
What seemed to irk Anyanga and his supporters was Mbadi's pronouncement at a rally in Uriri that: "People like Anyanga must be ready to face the people in free and fair nominations in 2017."
In a quick rejoinder, Anyanga said: "If Mbadi is not tamed, we will end up more divided. This is not a chairman, but an extortionist out to make money from the nomination process." Anyanga told The Nairobian that: "A chairman should be the unifying factor in the party, spearheading serious activities like voter registration, not those who want to sell party tickets to their cronies."
He added that, "Mbadi should focus on his backyard where he is facing serious competition from Omondi Caroli. He should first deal with Caroli before coming to Migori to lecture us on nomination matters." Anyanga claimed that President Uhuru Kenyatta got over 2,000 votes in Mbadi's Suba Constituency in the 2013 General Election, unlike in Nyatike.
A source who spoke on condition of anonymity told The Nairobian that Mbadi's "uncultured and misdirected rhetorics aimed at irking his fellow ODM politicians" only work against Raila's bid to lead this country.
"We in ODM know fully well that he was honoured by Jubilee government during Madaraka Day for only God knows what. How did he — a chairman of ODM party — end up on that list that was crafted by our enemies. See, you don't have to be a rocket scientist to see that he is dining with our opponents. He cannot be trusted, which is why Raila Odinga must edge him out before it is too late."
Alego Usonga MP Omondi Muluan, who decamped to Wiper after shambolic ODM nominations, has also accused Mbadi of endorsing aspirants in his constituency, yet he had indicated his intention to rejoin ODM. He told Mbadi to concentrate on voter registration among the youth to increase Raila's votes in the region.
"Endorsing aspirants in Luo Nyanza will not add any vote to Raila's presidential bid. Mbadi should be widening Raila's campaign scope instead of fighting sitting MPs," said Muluan.
There is disquiet in the Orange party quarters, with most aspirants already warming up to smaller parties in Cord should the nominations turn out to be a sham.
"We know there will be no fairness and we are aware of plans to handpick candidates. Our hope is that the National Elections Board (NEB) and party leader will not allow this to take place," said an aspirant who did not want to be named for fear of victimisation.
Aspirants have asked Raila to ensure ODM officials concentrate on his presidential ambitions rather than undermining local leaders.
They have accused ODM MPs and officials of not doing much to advance the Cord leader's presidential ambitions. He said that instead of mobilising voters, the officials were plotting how to influence grassroot nominations in their favour.
"Right now, voter registration is going on around the country, but none of our leaders is focusing on that. We are sitting tight and pretty waiting for the Independent Electoral and Boundaries Commission (IEBC)'s national voter registration exercise, which will only come in February. Our leaders need to sponsor people to register," an aspirant said.
NEB chairperson Juddy Pareno, added her voice to the debate, warning leaders against making reckless statements regarding party nominations.
"We are aware of people intimidating others in the villages, telling them the party has preferred candidates in various regions. Let us be clear that no one will be favoured. Everyone has an equal chance," she said, adding that: "The party will undertake a civic education exercise across the country ahead of the nominations," Pareno told The Nairobian.
Mbadi could not be reached for comment as he did not answer our texts or pick our calls.