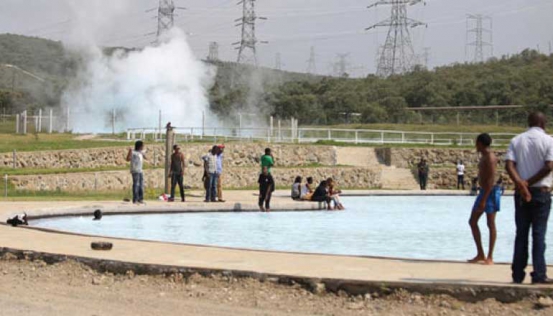 Kenyans flocked Naivasha over Jamhuri Day celebrations and will visit again during Christmas and New Year. Among other places, most will throng the Olkaria Geothermal Spa in Hell's Gate National Park - the setting of the Lion King film, and so called because of a narrow break in the cliff, once a tributary from where unfortunate human beings were fed into a prehistoric lake.
Since the spa is in a national park, you will have to part with Sh700 park fee for yourself and Sh350 for the jalopy (less than six seats) for those among us who buy more tyres than shoes. Then there is another Sh400 fee to use the spa.
You will see Kenyans swimming in the spa, although it's meant for relaxation and sitting kidete. But ushamba never leaves most of us, no matter how far from home we travel!
This spa belongs to KenGen which runs the Olkaria Geothermal Power Plant - Africa's largest geothermal installation, and whose spa is also the only one of its kind on the continent.
The spa is five feet deep and 3,600 square metres wide. It cost $300,000 (Sh30 million) to put up it's thee cascading blue lagoons, including the kid's pool.
Did you know that this spa's pool has brine water (a solution of sodium chloride, salt and water) which passes through the pipes at 150ºC, but cooled twice to 60ºC then 30ºC by the time it reaches the pool? For health buffs, the sulphur in the water is good for the skin after undergoing hydrotherapy sessions. Indeed, the sulphur and silica minerals in the water that gushes underground can cure psoriasis (silvery skin scales), fibromyalgia (bodily pain) and arthritis.
Remove all copper ornaments before taking a deep into the water, as the sulphur will surely change their colour if worn while inside the spa. Plans are underway to have cottages around the hills overlooking the spa for those who want to stay overnight.