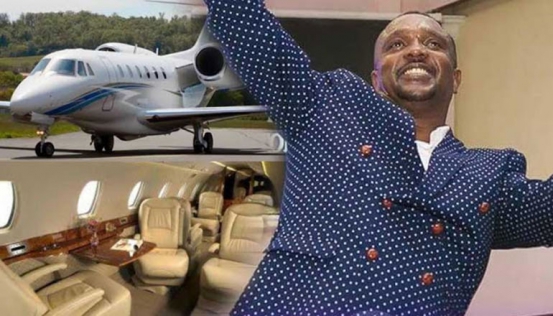 Bishop Allan Kiuna of Jubilee Christian Centre caused an uproar on social media after posting the photo of a private jet on his Instagram account on Jamhuri Day with the caption: "Thank you very much wonderful people." He later pulled the image down after comments started trending.
But Kiuna, a straight shooting bishop and columnist with The Nairobian, says it was all mischief from unknown people but that his dreams of acquiring a private jet in his lifetime were still valid.
"I had a consecration as bishop on Sunday and guys started calling me to check my Twitter handle saying I was given a private jet for my 50th birthday," said Kiuna, adding that the news eclipsed his consecration and birthday celebration. "Anyway, inakuja kwa imani," he said cheekily.
The bishop had earlier told Citizen's eDaily website that the jet would come eventually. "What I would say is there is no jet yet, but it will come soon. I have already acquired one."
The private jet, a Cessna Citation X 1997 model whose price tag is an eye watering $20.6 million (Sh2.1 billion), belies the long journey the man of God and his formidable church have taken. From Huruma estate, Nairobi, Bishop Kiuna and his wife, Reverend Kathy Kiuna (whom he met at a telephone booth), entered the ministry and were mentored by Pastor Teresia Wairimu of Faith Evangelistic Ministry where Kathy sang in the worship team.
They then started a printing business that flopped before founding their own church at Temus Restaurant in 1999.
Temus was owned by Terry Mungai of Ashley's Hair Salon. Rent was a subsidised Sh3,700 a month. What started with a congregation of six is now a Sunday morning 6,000 strong Jubilee Christian Church with branches in Nairobi's Eastlands, Mombasa, Nakuru, Thika, Kisumu, Siaya, Pretoria South Africa, Kampala Uganda and Texas USA (where Pastor T.D. Jakes is his spiritual 'daddy').
There is also the JCC Media Ministry comprising a music and video production and publishing departments besides a school, the African Leadership Bible Institute.
In past interviews Kathy, the Senior Associate Pastor at Jubilee Christian Church, has reiterated that theirs has not been a smooth ride: "Those who talk only know the 'after'; they should have seen the 'before' to appreciate the work of God," she explained in an interview. "God has raised us up in the church and the church is as good as its flock — if the flock is walking in poverty, so will the church."
Kathy was also quoted saying: "God wants us to be prosperous in every single way. His desire for us is to walk in abundance. I am praying for church people to show the likes of Bill Gates dust!"
In the eDaily interview, Bishop Kiuna said the purchase was to be done using his own cash, debunking rumours that the jet was being bought using his congregants' money.
"Some online outlets in the country are too quick to report nonfactual information about people. Those (reports of acquiring a jet using congregants' money) are just cooked up stories. I don't think it is even necessary to follow up on cooked up stories," he told The Nairobian, adding "My dreams are valid" in reference to owning a private jet.
The Bishop is, however, getting concerned about people nosing around his lifestyle with persistent rumours.
"I'm neither the biggest bishop in the city nor the richest yet people come up with rumours that are totally untrue about us," he argues.
Recently, the popular Bishop had to deal with rumours regarding his family, 'ambassadorial' residence and his daughter's marriage. In the past, pictures of his affluent pad, said to have a hanging swimming pool, made rounds on social media, followed by a string of comments about serving God and its place in earthly possessions.