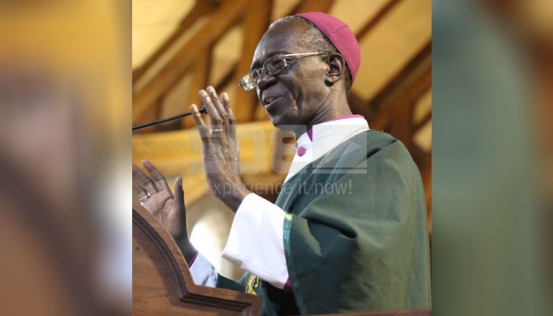 What would you describe as your most special and difficult moments as an Anglican church bishop?
When I was the National Church Council of Kenya (NCCK) chairman in Bungoma, my biggest challenge was the 2013 post-election violence. I called upon Bungoma people not to participate in violence and that call was heeded to.
In the entire western region, Bungoma was calm. Although people don't know it, we were part and parcel of creating and producing the material that formed the basis of the Koffi Annan negotiations. That was a special moment.
And when you headed the Anglican Church?
Being at the helm of ACK church was lonely, especially when it came to the Constitutional referendum. The church was for 'NO'. But we argued that it is better to give people an opportunity to decide because the constitution was not a matter of doctrine but one of consciousness.
At the end of the day, I think it was the best decision I made and I thank God that I had a lot of cooperation from bishops across the country. Within my church, however, election of bishops was a big challenge. Those elections always kept me awake.
What did the church achieve under you?
The church underwent a great deal of expansion. I consecrated over 21 bishops and created new dioceses. We achieved a lot of stability and established a culture of peace within the church.
At the headquarters I managed to put up a 13 storied building and expanded the Mombasa ACK guest house and other dioceses. In terms of infrastructure, All Saints Cathedral as a national church has achieved a lot. It is a good worship place. The life of the church is reflected by quality of worship.
When you celebrated your last mass as head of the church, what did you feel you had not done during your tour of duty?
There is still a lot to be done. I had three elections for bishops whose consecration I had to hand over to my successor. There are many doctrinal issues and biblical programmes that are on-going. You do your best during your time and hand over.
What would like you to see your successor do?
What I normally say when you get a job is that it is God wanted you to be there because he had something unique for that moment for the people.
Let the new Archbishop do what God wants him to achieve for the church. I will continue praying for him and supporting him.
You were chairman National Anti-Corruption Campaign Steering Committee. Is that body just another drain on taxpayer's cash?
In 2003, Kenyans were very excited when President Kibaki came to power. We wanted to make a mark and be the best in the world. Some of the things we did were to fight corruption. I was appointed to chair the team when I was a bishop in Bungoma and we were tasked to help change people's attitude towards fighting graft.
As a committee we encourage people to tell it as it is. We brought the awareness. Fighting corruption has to be strengthened. You fight corruption not by imprisoning or running after the one who has taken your money but by talking to the heart of the person. For me, I take it as part of my gospel work.
The whole nation mourned with you when you lost your wife. How did you and your family handle the loss?
(Overwhelmed with emotion) It is not easy and I don't think we have recovered completely. One thing I want to say is just appreciation. I don't want to talk about it.
Being anti-corruption boss has been described as one of the worst jobs in Kenya. Why would you want to do that?
At first, I thought it was part of what I was doing at the anti-corruption steering committee and felt it had more legal power to have five or more legislations from parliament that supports its work.
My view was that if I took charge, I would take up the education bit and continue to do the awareness, attitude change and cause Kenyans to change. Although I did apply for the job, the time frame to collect several documents was too short for me. So actually I am not part of it now.
What if had you submitted your documents on time?
After reading the constitution I discovered a lot that must be done because all other commissions are established by the Constitution.
The Ethics and Anti-Corruption Commission (EACC) is not established by the Constitution but through a legislative ACT of parliament. Why were they not allowing such a commission to be part of constitution law like others?
Secondly, the appointment of EACC chairperson is again subject to the Public Service Commission which I think brings down the kind of office they want to create to a level of other public servants and yet the war on corruption is big. This job needs a person to be protected properly.
We may want to say that Ringera, Lumumba and others failed, but these are intelligent people. We must examine the architecture of that Commission if we want results. If I would have attended the interview, I would have posed those questions.
Your name also came up as head of IEBC. But politicians are disrespectful. You remember how they mishandled Archbishop Kuria when he was mediating between them. Is that what you want?
That is something about our society. Are they serious when they say "Wabukala take up this position" or they just want you to be there to massage their interests? Desmond Tutu in South Africa was selected to head the truth and reconciliation commission and he did it very well because South Africans were serious and he helped them.
Are you aware that some rural Anglican padres and pastors live in abject poverty?
Yes and I am part of them because right now I am ministering in my village church. When young, joining church was a pure calling. To date our Christians think their pastors don't need salaries. That has to change. A pastor is an ordinary human being who needs to care for his family and therefore that attitude has to change.
The solution is that every diocese should have programmes in place geared towards supporting their clergy. At headquarters we run some projects which generate cash and each diocese receives one million shillings to support the bishop and running of the local church. People also need to tithe generously. If they give faithfully, we will take good care of our clergy.
How do you spend your typical day?
You know we are preparing land for planting and if I am in the village like now, I wake up my sons and we work on the shamba until 10.am. I also spend the day reading and writing my memoirs which will soon be published. I also go to the city twice a month because I chair the anti-corruption campaigns. It is a voluntary job but my travel is facilitated.
The church also still uses me. Last month I was sent as an ambassador to South Sudan for the All African Churches Conference. I led a team to meet the President and all religious leaders including Muslims and Christians. We talked about reconciliation at grassroots.
The Anglican Church also assigned me to train new archbishops in Africa. I am also helping to strengthen the church doctrine in London. I will continue to have engagements at the local, national and international stage when called upon.
If you bumped into Raila and Uhuru on a corridor, what would you tell them?
I have actually managed to bump into them! First of all, they are both my close friends. For me I encourage them to contribute to the wellbeing of the nation as much as possible.
Actually both of them have a common goal for the good of the nation but they stand at different points in terms of providing that service.