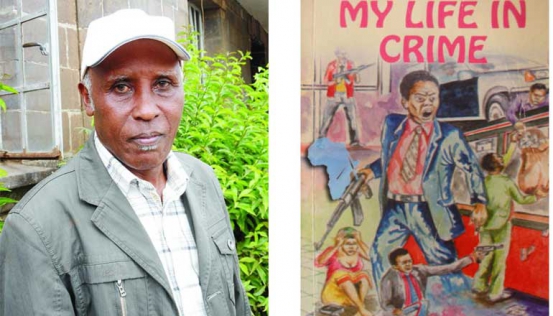 I did not believe people could conspire to rob a bank, kidnap, murder or commit other acts of felony. But now I know.
That is the beginning of My Life in Crime, arguably the greatest selling novel to ever come from our shores.
John Kiriamiti, a former crook-turned-novelist, wrote it while doing time at Naivasha Maximum Security Prison where he was 'cooling porridge' for a series of bank robberies that rocked 1960s and 1970s Kenya.
So daring were the bank robberies that then Attorney General Charles Njonjo made robbery with violence a capital offence through the Criminal Law (amendment) Bill of 1971.
What draws readers to novels is the suspension of disbelief. My Life in Crime is a fictionalised bio with names of people and places changed, including the characters: Captain G.G. Githenji, Kamande, Milly and Jack Zollo.
When Kiriamiti escapes to Congo, we are introduced to his millionaire Greek employer, Stephanos, in whose household there is daughter Hellen, and son Karamikos, who were clueless about who their Kenyan chauffeur really was.
Kiriamiti impregnated both Hellen and Miss Makarios, the boss' secretary. It was time for him to return to Kenya where he had more than interested the Special Branch. Did you know that My Life in Crime (which was being turned into a Sh360 million feature film by Janet Kirina and Nell Schell) remains the only local novel Nairobians ever formed winding queues to buy when it was released in 1984, like they did when there was a shortage of unga or paraffin?
Reprinted 10 times, My Life in Crime sold 100,000 copies by the time Kiriamiti was re-arrested on trumped up charges of robbery to bankroll 'Mwakenya' in 1987.
Miguna Miguna's 2012 bio-peek, Peeling Back the Mask, almost came close, but Kenyans instead of queuing downloaded it for free from the Internet!