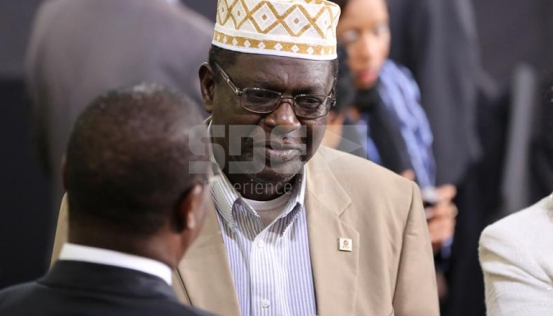 Malik Obama has been hitting the headlines for the wrong reasons, and his self-made battle between him and his family members seems not to be ending.
Marrying underage girls, land tussles with close family members and scathing attacks on his half-brother, US President Barack Obama, and the first family for not allowing him to spend a night at the White House, heated arguments with Mama Sarah Obama on why she gets more media coverage yet he deserves more as the closest in family lineage to Barack, being accused by his daughter of child neglect... that is Malik.
In his village, not many people understand him. Not even his siblings have his phone contacts, with those reached by The Nairobian indicating that they had either deleted or have never bothered to have them, for it has no use to them.
All they say is that Malik's kids school at Senator Barack Obama Secondary School, formerly Nyang'oma Secondary School, whose fence border's his father's rural home in Kogelo.
Family members say Malik is not the sort of person to be taken seriously.
"Malik managed to get two votes in Kogelo when he vied for the Siaya gubernatorial position, seemingly his vote and that of his ballot agent (Malik garnered 2,792 votes). How many will he convince in America to vote for Trump?" posed Nicholas Rajula, his cousin.
However, the spat between Malik and President Obama may have started in the early 1990s, but never escalated till Obama became a public figure.
Close family members say President Obama may have avoided altercation with his half-brother and chosen to 'focus on the antelope and leave the squirrel alone.'
Malik's attacks on Obama have stung family and Kenyans in general. Recently, he 'endorsed' Republican Presidential candidate Donald Trump, against his brother's preferred candidate Hillary Clinton.
He even attended the United States' Third Presidential Debate upon invitation by Trump, and is one of the few private citizens who has gone against the traditional 'secret balloting' to announce that he will be voting for the Trump presidency.
According to Malik who unsuccessfully vied for the Siaya Gubernatorial position in 2013 as an independent candidate, President Obama did not support him, and: "Why should I support him in politics and he didn't support me in politics?"
And on this decision he noted: "Hillary Clinton is a liar and totally corrupt. What is her Clinton Foundation doing for Kenya if she loves Obama so much? Mr Trump is a successful businessman he will make America great again. He is not heartless. I will not be humiliated anymore by anybody."
"Why did he not support and write a forward for my book about his father Barack Obama Sr? Why does he not support my Foundation set up in the name of his father Barack Obama Sr? My two children died it was nothing to him. No condolences, nothing!" he said.
Obama's family however says this is not the first time Malik goes against his own family, having not supported the first black US President in his first political move when he vied for Illinois Senatorial seat in 2004, and that the media has offered him a platform to express his jealousy for an innocent brother.
"Barack Obama is the President of the United States and has bigger things to attend to than engaging in family affairs in public," said Obama's uncle, Said.
"Every decision President Obama makes has always been shared with the family. He did so when he was planning to marry Michelle. He did the same when he was running for the Illinois Senate seat, and he did it again when he was going for the presidency," said Said.
In his book Dreams of My Father, Obama revealed that Malik was his best-man when he married Michelle in 1992, and described a warm relationship between them when Obama was tracing his roots to Kenya in the 80s.
However, in a recent interview with Fox News, Malik accused President Obama of abandoning his family and failing to provide for them.
When contacted by The Nairobian over the beef with his brother, Malik responded that: "My brother Barack Obama is a disappointment. Why did he not come home to Kogelo? Why did he not provide for the family when they came to see him in Nairobi? They experienced extreme hardship and left immediately after the dinner."
He added: "Why did he not support Auntie Zeituni in America? He claims to be an advocate for illegal immigrants. Why did no member of the family in Kenya attend the 2016 Democratic Convention? Why does he not have Auma Obama be Director of the Board of The Barack Obama Foundation in Chicago that's set up for his presidential library if he loves her so much? Why not Mama Sarah Obama his grandmother if he loves her so much?"
Obama's Kogelo family has however distanced themselves from Malik's sentiments, saying Malik is a bitter man looking for easy opportunities.
A source within the family who requested not to be named in the article said Malik's close relationship with some countries and individuals, may have spoilt the rosy relationship between him and President Obama.
"When he was seeking a political seat, he used the slogan 'Obama koni, Obama kocha' (Obama this side, Obama that side), aiming to ride on Barack's image. He has met the high and mighty because of the Obama name and a lot of opportunities lie ahead of him if he uses that name well. What is this that he wants Barack to do to him? Feed him?" he scoffed.
"There is a time Malik took some family members to meet the late Libyan President Muhammar Gaddafi, and the move did not augur well with Barack given that Gaddafi was in bad books with America. During that time, Malik also had friends in the Far East, especially countries linked to terrorism," said the source.
This move, she said, may have upset Obama and he allegedly advised that Malik dissolves the Barack H. Obama Foundation which Malik used to spearhead his missions.
Rajula described Malik as a man who 'urinates in the plate which feeds him'.
"Malik should be a very successful man by now, but he suffers from a complex given that Barack who was little known by the time Malik was a graduate, is now the president of the most powerful country," said Rajula.
According to the family, Malik, having lived in the US, should be aware of the operations in the country, where the Presidency and the family are two distinct entities.