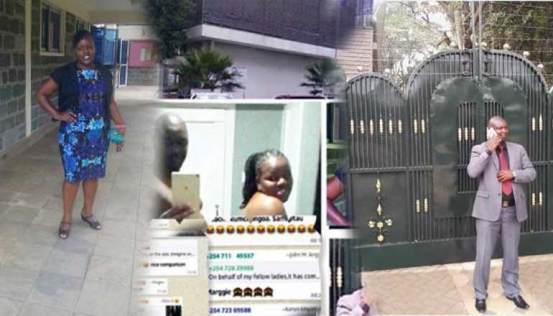 It was giggles galore in Nakuru town last week, when a nude picture of senior married female county officer, Esther Githinji, surfaced on social media platforms. The explicit picture depicted the nude officer apparently twerking uchi wa mnyama with a driver from the governor's office resting his 'machine gun' on the woman's ample backside.
 It has emerged that the driver who was also in his birthday suit is one Joseph Mugambi. The two were apparently taking time off for extra-official duties at lodging and the hapless man accidentally uploaded the image on the 'Cross-Fire Nakuru Debate' WhatsApp group.
The picture, taken by a standing and naked Mugambi as the two lovers struck an amorous pose in front of a mirror was posted at 9.15am on the forum. Thereafter, it was widely shared by group members to five other WhatsApp groups run by county government staff.
Githinji is an IFMIS (Integrated Financial Management Information System) officer with the Nakuru County government.
Ironically, in a classic case of siku za mwizi ni arubaini, it is Mugambi, whose wife is said to be a police officer, who posted the picture on the forum where he is among the more than 100 members.
"I was sharing the picture with Githinji but I accidentally posted it in the group. Someone who is malicious downloaded and re-posted it to other groups. I regret doing the incident (sic)," he said when The Nairobian reached him for comment. "One of the members even forwarded it to my wife. This is a witch hunt," he complained.
Complaining that the "simple mistake" has destroyed his marriage, Mugambi said his primary goal was to sort out the mess the picture had caused in his home.
"I'm now focusing on working on my marriage. My wife is mad at me but things will work out," he said.
Githinji did not respond to our phone calls or text messages. One of her colleagues said Githinji is devastated and that she was thinking of taking time off work.
WhatsApp group administrator, Peter Cheruiyot, said he was shocked when members started calling him about the inappropriate picture.
"But I could not do anything because some members had already downloaded and shared the photo," he said, adding that members of the group comprise senior county officials, Members of Parliament and members of the local county assembly.
Cheruiyot explained that the agenda of the WhatsApp group is to articulate development and political issues in the county and not for posting personal pictures.
"We have rules in this group because I have invited even senior people in the county government as members," he said.