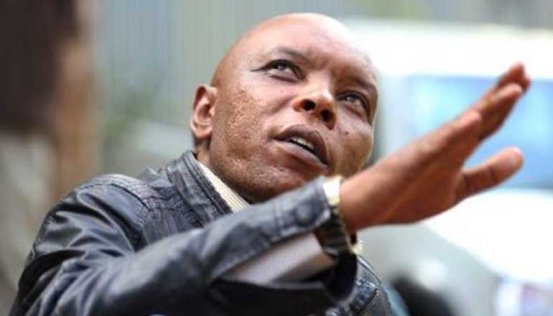 You were a die hard Raila supporter in 2013. How come you are now supporting Jubilee?
I have not stated my position on which party I will be vying on, but it has to be known that my home county is a Jubilee zone and I will go with what my supporters decide.
Have you and Raila fallen out?
This is not a Raila-Maina issue because Raila is my next-door neighbour in Karen. Charity begins at home. I have simply gone to my village of birth and I am consulting my people who will tell me what to do.
Why do you believe you can beat GG Kariuki for the Laikipia senatorial seat?
It's not a matter of beating GG because he's over 80 years old and has declared that he will not be vying. GG is a great friend of mine and I treat him as my grandfather. He has been my teacher and political mentor and I have a lot of respect for him. I will organise a big party for him so that he retires honourably. For your information, he has agreed to be my chief political adviser and I have agreed to appoint him to lead my senatorial campaign because he has experience in politics spanning over 50 years.
What do you want to do for the people of Laikipia?
The people of Laikipia County have suffered for long as a result of poor representation. I understand their issues because I schooled at Ol Ngarua Primary School without shoes or lunch and walked long distance to and from school. I also worked on people's farms and carried their belongings on donkeys. In fact, one mzee still owes me Sh50 for work I did in 1983! I will initiate a lot of development projects in my county, mainly aimed at empowering women and the youth. I want to create job opportunities by boosting agriculture, spearheading the establishment of light industries and sourcing markets for farm produce.
Your wife was murdered. There was an attempt on your life. And people in Kajiado prevented you from burying your wife on your farm there. Who was behind all these?
The devil was behind it. I am saved and I believe in Jesus Christ as my personal saviour. I am also a bishop with Hope International Ministries. We don't talk about life or death because all of us will die.
Mungiki allegedly had two million members. Are you counting on their support?
I am not counting on Mungiki's support because Mungiki no longer exists. I am counting on the votes of the common man and residents of the greater Laikipia County which is a cosmopolitan zone hosting the Kalenjin, Samburu, Maasai, Kikuyu, Kisii, Luo, Luhya and many other communities. I am ready to work for them and with them as their senator without discrimination or favour because I believe everyone deserves respect.
Who is in charge of Mungiki today?
Maybe you know. I don't know. That's history and if there is someone in charge, if at all a leader exists, that is not my problem. But those people you call Mungiki are human beings and need respect too. They are Kenyans who also have rights. My only appeal to them is to come forward, repent and get saved.
Mungiki once escorted Uhuru Kenyatta, when he was Kanu leader, through Uhuru Highway. At what point did you shift base to the Orange Democratic Movement (ODM)?
Politics is dynamic and there are no permanent friends or enemies. Interest matters most in politics and the people on the ground are the ones who dictate the direction politicians must take. Also, with multi-party democracy, one has many choices.
It has been alleged that Mungiki were responsible for the revenge attacks in Naivasha in 2008. Is this true?
It's not true. It was more of propaganda to tarnish my name and other people known to me.
What is your honest view of late Security minister John Michuki?
He should be left to rest in peace. In fact we are organizing a prayer meeting in Murang'a to pray to God to have his soul rest in peace.
Every politician is running away from the Senate to vie for the position of governor. Why do you want the 'mabaki'?
Those running for governorship think the seat has a lot of money, forgetting that the money belongs to the people. I don't want money. I want to be senator in order to monitor how county funds are spent and act as the people's watchman.
Is it true you used to control Mungiki when you were in prison?
It's not possible to control anything in prison as that is a protected area where everything and anything that comes in or leaves is screened and monitored. What you are alluding to is pure imagination.
Where did all that cash Mungiki used to collect go?
Which money? If there was cash it went to the people.
Do you fear that Mungiki boys will one day come for you because the leaders became rich while they remained poor?
They will never because all of us who got saved and repented our sins when we accepted Jesus Christ as our personal savior are rich and doing well in life. Or what kind of richness do you mean? Owning a ship or an airplane?
A Senate campaign is not cheap. How will you fund it?
We are ready for anything and we are going to mount a serious campaign that will shake the whole of Laikipia County. I am a businessman and I have friends who will assist me. I will also work with the people in the county to fundraise if need be. I am a large-scale farmer in Laikipia and Kajiado counties. However, I believe it is not the money that will elect leaders, but rather their manifestos and plans for the people.
How do you relate with Ndura Waruinge?
He is my first cousin and we meet in family gatherings, call each other and talk on phone and eat nyama choma in our local joints. But what you should know is that in life, each person has his or her own interests that he or she must pursue.