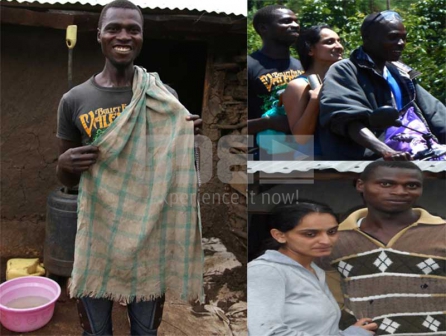 Timothy Khamala, who hit the headlines after cohabiting with Sarika Patel, an Asian girl, who was taken away by her parents, now says she left a 'love' souvenir indicative she still had hots for him.
Khamala, who excited Kenyans in 2014 after housing Sarika — who previously worked for their family business — in a semi-permanent house says the towel that was left behind in his 'cube' was a symbol enough that "Sarika is still with me."
Though Asians came to Kenya over 100 years ago, inter-marriages are often blocked by social class, religious and parental differences especially when one of the parties in love is an Asian girl. The same is rarely the case when Asian men pick a miro women for a wife.
For now, Khamala is content, using the towel to gently wipe his body — every morning after showering, every evening before bed — as a symbolic gesture honouring Sarika.
The peasant farmer fondly calls the faded checked white two-by-one metre towel 'Sarika towel' and for which he can beat anyone senseless for coming close to it.
"Our love is not dead, that's why I have not married another woman. Take anything from me, mess around with my clothes but if I find you with that towel, I can do the worst. The towel leaves a magical touch on me," he told The Nairobian at his home in Nang'ena village in Webuye, Bungoma County in Western Kenya.
Apart from the towel, Khamala's nights are often coloured with dreams starring Sarika.
"There is this particular dream where I saw her and her family in a celebratory mood. I was also among them and things were working for us. She was dancing the Hindu style I was also dancing in the same way, we then shifted to the Bukusu dances and she was also with me. That is why I strongly feel that we will be buried in the same homestead."
He denied battering or physical confrontations as being the major cause of their separation.
"I had warned her never to take anything especially food brought to her from her family members but she defied. That is how she apparently fell sick and later, her family came to pick her for good," he said.
Asked whether they have ever communicated since, Khamala says "her parents and family cut communication between us but not our love".
Since Sarika left, Khamala says he has been living in fear and though he got two offers; one as a casual labourer at Nzoia Sugar Company for Sh10,000 a month, he turned it down alongside another offer of a shop as "it appeared weird that an advocate of the Sarika family was giving me a gift yet they were openly against our relationship".
Though heartbroken, this 'Bukusu Darling swears he will not marry a miro woman because, "Africans are stubborn. My former wife Betty Naserian returned for seven months but we couldn't cope," he says, adding that he often meets Sarika's father and her other relatives but they only exchange knowing looks and nothing more.
His father, Moses Khamala was fine with his Asian daughter in-law since "The girl was an adult and she loved my son. I do not see anything wrong in them settling as husband and wife."
Although bride price among Asians is paid by the woman's folks, Khamala says; "I was to pay dowry to them but they took Sarika from me."
Related Topics